Back in February, I wrote about my maternity fashion must-haves, and what you could find me wearing most days during the first half of my pregnancy. Back then, the weather was chilly, and my belly was about half the size it is now, so I was relishing in a cute little bump, and stretchy pants with a high waistband most days.
Now that the weather has changed, and I can almost taste the dog days of summer as they approach Maryland rapidly, my style and taste has changed. I am no longer comfortable in leggings with a waist that comes about my naval every day. I need to have options. Some days, I can barely muster up the strength to change out of my pajamas (a circumstance that I'm sure will happen much more often once G arrives), and others, I am still feeling good enough to rock my once favorite maternity leggings.
I have spent lots of time (and money, sorry B!) carefully purchasing maternity items that I think will last, have a reasonable price tag, and will (hopefully) still be in style when it comes time for Baby #2 thoughts. Admittedly, most of my threads have come from Old Navy, Motherhood, Target, and of course the fabulous bin of borrowed items that Aliya so graciously loaned me. This combination has armed me with plenty to choose from, and I still get a tiny bit excited when I pick out my outfit most days.
But, let's call this the 'Season of the Dress,' shall we?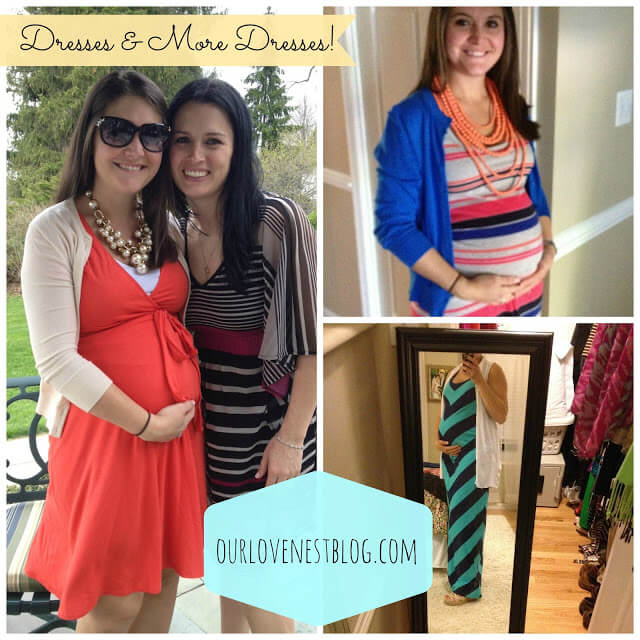 All of the dresses you see above are Old Navy or Gap. In fact, the one I wore to my shower (from Gap) is one of my absolute favorites. I had been waiting for it to go on sale for weeks and just happened to catch it $20 off the day of my shower while I was browsing our local store. Call it fate!
Another absolute favorite dress of mine also came from Old Navy. I bought it shortly after I found out I was pregnant (around December 2012) and it is by far the article of maternity clothing that I have received the most compliments on.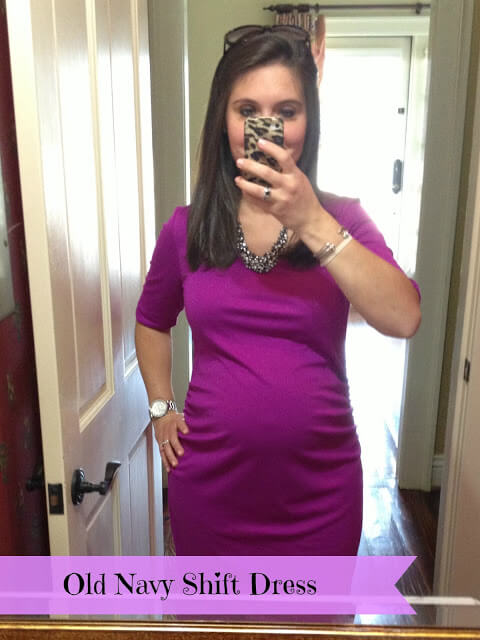 While you may find me in maxi dresses pretty often, they are not my only second half wardrobe staple. I picked up an adorable pair of white jeans a few weeks ago. They fit me perfectly, but aren't too snug, and pair really well with all of the colorful summer tops I am starting to wear.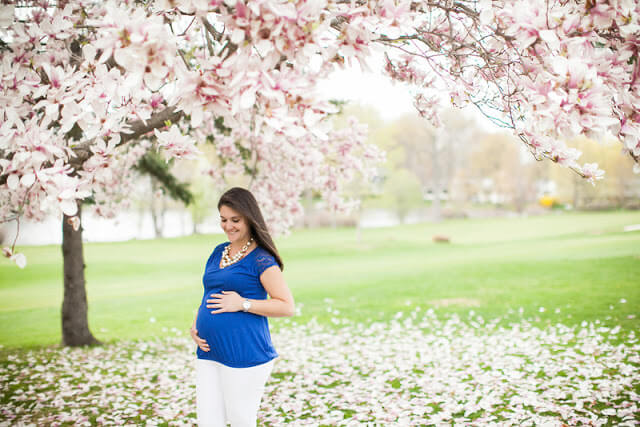 Once, I hit 23 weeks, there was no more hiding the bump, no matter what I wore. I have almost fully embraced my new body, so (for now, at least) I am comfortable rocking form-fitting tops that display my belly in all its glory. Sure, somethings make me look larger than I feel, or larger than I thought I looked just yesterday, but I'm OK with that.
I think the most important part of dressing your bump is knowing what makes you feel good. Sometimes, it may just be a favorite necklace to dress up a tank top and leggings. Or maybe those wedges that are way in the back of your closet from last summer. I have even rocked my loose fitting non-maternity tops on several occasions. And, pair anything with a cute and colorful skinny belt, and you are good to go!
The best advice that I can give is to embrace your body throughout your pregnancy journey. Sure, some days I feel gross and huge, but then I try to remember that God made my body to carry my children, and that is such a beautiful thing.
Another plus? I can still grab frozen yogurt twice once a week and blame it on the 'pregnancy.' Once Little G is here, I have trouble believing I will be able to do that without any guilt.