Things are going to be slightly crazier than normal this weekend with the impending loss of one of our beloved football teams.
You see, B and I are both big football fans (although B some would argue that I get WAY more emotionally involved than he does). If you've been here before, you probably know that I'm a pretty big NY Jets football fan. Call me a female fanatic. My loyalty to this team over the last ten years has gone from once a week viewing to listening to ESPN radio on the way to work every morning and talking out loud to Mike and Mike (as if they can hear me). I probably shouldn't have admitted that, but this season? It's the truth.
Well, the stage is set for the Jets and Ravens to face off Sunday night. And I am fully aware that no matter what the outcome of the game is, there will be one less than happy person in our household that night. It may even bleed over to Monday morning. But, that's what football is all about, right? Good, old-fashioned rivalries duking it out on Sundays. Fans all over the country getting together with friends, sharing food, cold drinks and a little smack talking? That's what we'll be doing this weekend. Lucky for me, we're watching the game with some good friends, and the Jets fans will outnumber the Ravens' 4-2. Hey, you have to start somewhere, right?!
Game day, baby! IT'S SO ON.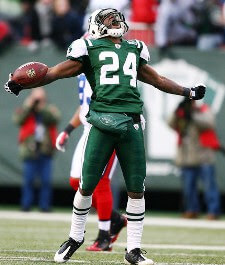 Who will you be rooting for this weekend??