Where have I been? Hmm, let's see - between weddings, traveling out of state, college visits with my little brother, family visiting and engagement shoots, the weeks have just been flying by!!

Since my last post, my best friend got married and returned from her honeymoon! Her wedding was on March 12th, near Hometown, NJ. The weather was rainy, but you never would have known by looking at the bride or the groom. They had a beautiful afternoon ceremony, followed by fun-filled, all night reception! B and I had a great time dancing, catching up with friends, and enjoying a few adult beverages :o) A few pics for your viewing pleasure below ..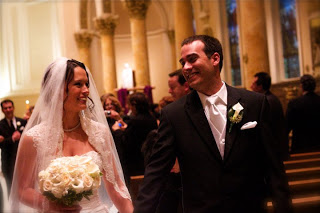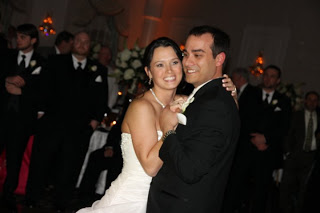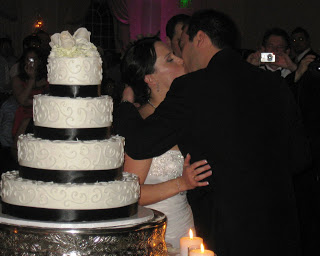 In other news, our wedding plans are coming along great! We have most of the big stuff done


Church & Pastor booked
Reception Venue booked
Ceremony Music booked
DJ booked
Found my DRESS!!! (and a few fun accessories :o))
Bridesmaids dress ordered
Photographer booked
Engagement shoot DONE!!
Registries up!
Wedding Website close to launch
Save-the-Dates beginning soon
Honeymoon Booked!!
What am I forgetting about? We still need to book our honeymoon flights, buy our wedding bands - I have picked out mine, but B is not sure what he wants yet - we need to book the limo, and I need to confirm hair and makeup artists!

We've been able to participate in some really rewarding activities during this time - including our first session with the Pastor who will be marrying us, an Engaged Encounter weekend retreat, and just this past weekend, we had our official engagement photo shoot with the very talented,
Dana Duncan!!
I am BEYOND excited to see how our e-pics come out, and have every reason to believe that they will be just fabulous! After all, Dana's engagement shoots were really what drew me to her in the first place. There is something to be said about meeting your photographer (and in our case, her hubby, too!) before the wedding; both B and I were so happy to get to know her before the wedding, and this way, she will have a better idea of where we are coming from and what we like before the big day arrives!
We are just under the 7 months-to-go mark, and we are so excited! We are in tht in between stage where we have already had our engagement parties (yes, there were 2!), and have booked most of our big stuff, and paid every deposit, but we're not close enough for showers or bachelor/bachelorette parties, so I would say that we are feeling a tad anxious! I think that we are both ready for the big day to be here, but are definitely making every effort to enjoy this time of great anticipation.
What's next on our agenda?
Well, we need to find a place for me to live come August 1st; a place where I will live and prepare it to be our first home for the months of August, September and October, an then after the wedding in November, B will move in and we will finally be living under the same roof! I have had my fair share of roommates and living situations, so I am ready for t to be just the two of us, and to start our own routines and traditions.
We have a ways to go, but we are in a great place, and with this warm weather we've been having, we've been soaking up every minute outside with our friends and families! Thjis weekend we're headed to Ocean City, MD with my in-laws to help out around the new family beach house!! I hope that this weather holds up so that we can spend some more time out in the sun while we're there!!
HAPPY SPRING!!!