When we bought our home back in 2011, we had every intention of truly making it 'our own.' We live in a townhouse community that was built in the 1980's, so naturally, many of the units were in desperate need of some TLC.
Our unit in particular needed a lot of work. Luckily, it had new windows and an updated kitchen, but as soon as we closed, we gutted all three bathrooms, ripped up all of the flooring and proceeded to clean, paint and resurface basically the entire place.
Eighteen months later, we have come a long way. Our bathrooms are now (finally!) all updated, the painting and flooring are completed and all we have left to do in the way of large home projects is re-install new railings on all of our stairs and add a fence to our backyard.
But phew, our master bathroom was a long time coming. Since it's been just the two of us living here, we finished the main hallway bath upstairs before we moved in, and let our master take a backseat. I would be lying if I said I didn't forget, on more than one occasion, that there was even a space for a bathroom inside our bedroom. Obviously, the anticipation of bringing Gavin into our home was a big motivator to finally seeing this project come to fruition, but it also would have been nice to have two full baths a few weeks back when my husband came down with that nasty stomach bug. You live and learn, right?!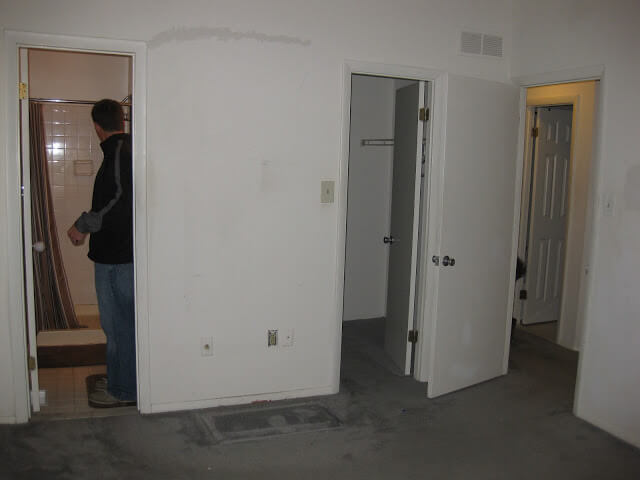 This is the best 'before' picture I was able to find. But, the master bath that was there when we bought the place, before we gutted it, had definitely seen better days. We're talking original tile and grout, cracked door trim and a dirty shower pan. It was definitely not worth hanging on to.
Since the space is small, and there was no real way for us to enlarge it without cutting into the other bedrooms on that level, we decided to keep the size and just make the best of it. The most important features to me were that it was clean, conveniently located (duh) and had at least a little bit of style. After all, this will be the room and bathroom we use most once G arrives. Or so we're planning.
I would be remiss if I did not mention the fact that B did tons of prep work to get the bathroom ready for the few subcontractors that we did use for install. That husband of mine loves a good project! Once he had finished painting, hanging the new light fixtures and doing some drywall repair, we were pretty much ready for tile.
The tile took two days, but wow, it made an immediate difference.
The plumber that B uses was able to come in only a few days later to finish the job, so we spent the better part of that week in and out of Lowe's and Home Depot picking out vanities, faucets, shower heads, you name it. And, of course, I dragged B along with me on a quick Home Goods trip to grab a few decorative items to finish the job!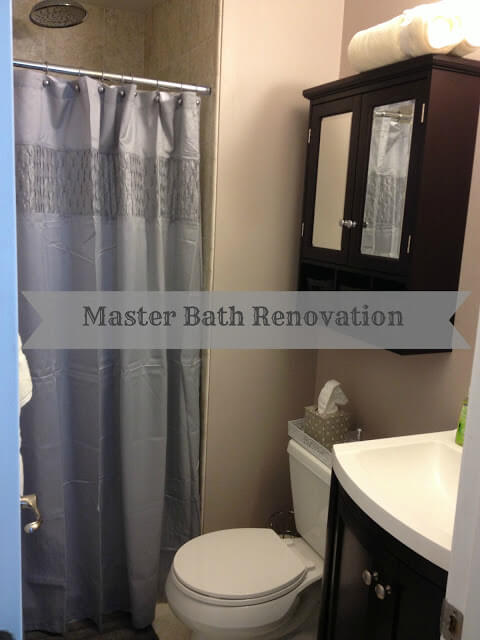 Our original plan was to have a seamless glass door installed on the shower. That part may or may not have been put on hold until this fall after we realized how much we had already spent on everything else. But, I was able to find that cute shower curtain at Home Goods and I think it completes the room perfectly for now.
Most of what you see pictured, as well as a few items that didn't make it into this photo (like the mirror above the vanity that I adore), were found at Target, Home Goods and Home Depot. If you have a specific question about something you see, I'd be happy to pass along the info!
It is safe to say that my life has changed with the addition of this bathroom; although it will make my Saturday morning cleaning routine a bit lengthier. Renovations are definitely not for the faint of heart, as we have learned time and time again over the last two years, but the feeling you get when you see the difference they make is truly unmatched!