Another two weeks have gone by (and I'm a day late, again!) and we have happily sailed into the third trimester. Earlier this week, I wrote about some things I don't want to forget for when we decide to try and do this again someday, and I loved having that time to reflect on my experience so far.
Since my last update, we have (finally) finished our master bathroom and I took the dreaded glucose test. In truth, the glucose test wasn't as bad as I was expecting. I am just hoping to have passed with flying colors so I don't have to do a repeat this time! The master bath was a long time coming, and I hope to have a more detailed post up about it later this week.
I'm still working up a normal appetite and eating my smoothie every day, as it has been throughout this entire pregnancy. It's a healthier choice than ice cream, right?! We still have a seriously active little dude in there, especially in the afternoon and evenings. And, the Braxton Hicks are still happen inconsistently, but pretty much every day.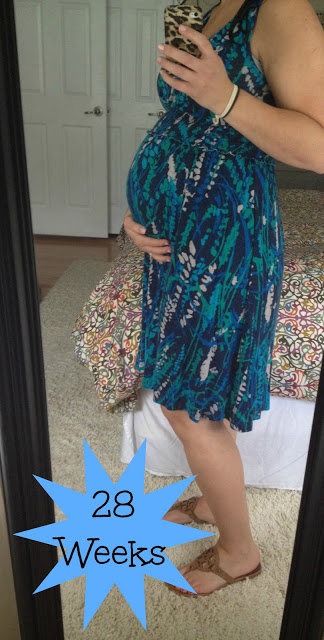 How far along are you? 28 weeks as of 4/30/13
How I'm feeling: Feeling thankful that I still feel good. Heartburn is at an all time high, but I'm managing. My energy level is pretty normal and my appetite is great. I am starting to get more discomfort when I sit for too long. I think G might be sideways and not have quite enough room for his bottom half lodged in there under the right side of my rib cage. Let's just say that my latest 3+ hour car trip to NJ (by myself) was not so comfortable.
Total weight gain: 11 lbs. as of 4/1/13 (getting weighed in again on 5/3, and I think I've added another 4-5 pounds to that!)
How big is baby? According to my handy iPhone app, G can be estimated to be somewhere around 17 INCHES long and close to 3 pounds! I am excited to see what the doc says now that we'll be going every other week.
Maternity clothes: Errrm, yep! Dresses, tanks, leggings, and recently purchased the most ADORABLE white, cropped jeans from Motherhood.
Stretch marks? No, thank you sweet Jesus.
Sleep:
Falling asleep really quickly these days. As soon as I am comfortable and the TV is off, I'm out like a light. Still waking up to pee, but not too often. Hoping I can continue to get some good rest for at least the next few weeks!
Best moment this week

:

Still in love with all of his movement, it makes it feel so real. I am trying to figure out what position he is in, but I think it might be kinda sorta sideways?
Movement: Very active little boy!
Food cravings: Frozen Yogurt with all.the.toppings.
Food aversions: Nada
Labor signs: Still getting Braxton Hicks sporadically a time or two each day. It amazes me how it just happens out of nowhere and I've been told that the closer I get to delivery the more I'll be able to see the shap

e

of Little G's body when it happens. Crazy.

Belly button in or out: Well, the answer to this questions hasn't changed in about 15 weeks. You can even see my button in some of our new maternity photos!
What I miss: Cocktails, a good sandwich with 'normal' cold cuts, and being able to workout when/if I feel like it.

What I'm looking forward to: I have my very first shower this Friday here in MD with some family and friends, and I'm pretty excited. Still choosing an outfit, but I will do my best to get some pics so I can post a recap next week!
Milestone:
Momma got through the glucose test (hopefully, we passed!) and we've reached the third trimester. I am anxious to see G's sweet face via ultrasound again, and the doc visits are getting ready to pick up. The nursery is very close to done. We are planning to hang some things in there this weekend, and once my showers are over, I will do all of the laundry and really get it finished! We also got to take some maternity photos with my sister last weekend and I am THRILLED with the way they came out. Will definitely share more here soon.