You could definitely say that I was one of those girls who has dreamed about her wedding since she was five years old. During the year leading up to our engagement, we were invited to, and attended, at least five weddings. Once we got engaged, I think we attended at least five others. This was an awesome thing for me, because it allowed me to see so many different themes and ideas, so by the time I was really into planning our wedding, I already had a pretty good idea of what I wanted.
I was also lucky enough to have a sister (my Maid of Honor), and Mother who have an unmatched eye for design and decor. I like to say that I planned about 95% of our wedding on my own, but the truth is that I couldn't have done it without the two of them, and I will never be able to express the gratitude I have for everything they did for me during that special time in my life.
One of the elements of our wedding that was most important to me was photography. I knew that the pictures would be one of the only physical memories we would have to keep for the rest of our lives. Again, I was lucky enough to have multiple friends that felt the same way and were either photographers themselves, or had someone fabulous to recommend. When I chose
Dana Duncan
, my plan was to choose our wedding date around her availability. Yes, I was that girl. Fortunately for us, it was not hard to find a date that worked for everyone, and next thing I knew, we had a wedding date and an engagement shoot scheduled!
B wasn't a huge fan of the idea of an "engagement shoot," but being the wonderful man that he is, he put on his sweet smile and tried to make the best of it. And, of course, being the lovely woman that I am, I made sure to include a quick stop for drinks along the way. We chose Baltimore for our engagement shoot because we live in Maryland, and the wedding was in New Jersey (near my hometown), so I thought it would be perfect to add a little Maryland flavor into that aspect of the wedding.
One of the ideas that I had seen and loved was the use of pictures of the bride and groom, accompanied by a number, and framed to use as the table numbers. I decided that the engagement session was the perfect place to capture these pictures, and Dana obliged. The pictures turned out great, and it was so much fun to see them adorning each of the reception tables. And, even better, we got to keep them and have a few of them around our house today.
So, whether you're wedding planning right now and looking for ideas, or you just love weddings like I do, I thought I would show you a few of the table number photos that we used.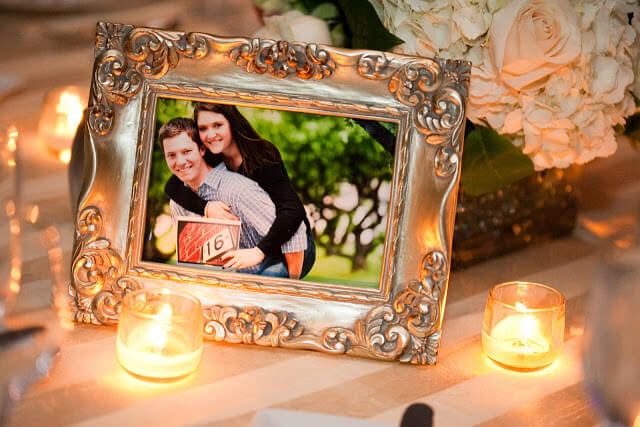 We ended up with 16 tables, which was actually a relief from the 20 we had originally planned for!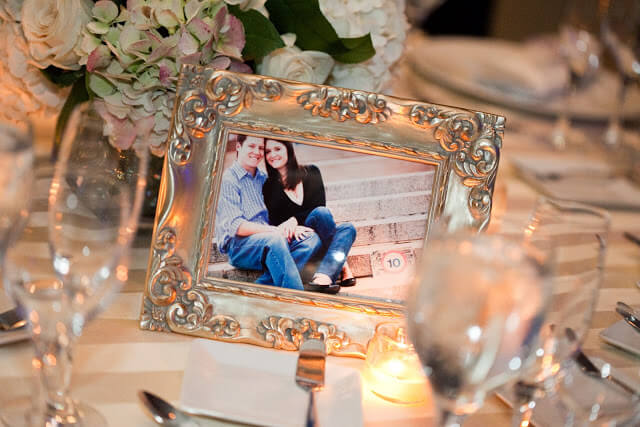 This picture was taken right along the Inner Harbor in Baltimore - love.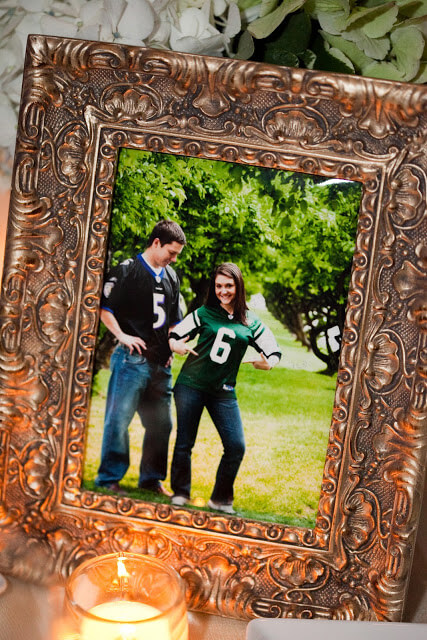 If you know me (or have read my "About Me" section), you know that I'm a huge NY Jets fan, so we thought it would be a cute addition to use our football jerseys to represent numbers 5 & 6.
So, there you have it; a little glimpse into our wedding. I promise to post some more ideas and pictures. All of our hard work paid off, and it is so much fun to look back on our big day!!