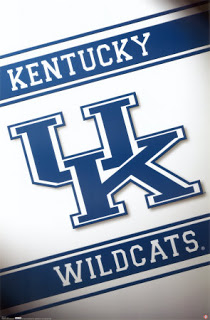 Hi Bloggers!
I hope everyone is doing well, and that you are all as excited as I am about Spring!! We have finally crawled out of the blistering cold temperatures, and have been enjoying mid 60s to low 70 degree weather this week! I swear I would be a changed woman if the weather was like this 80% of the year - hopeful thoughts, right?! Maybe I should just start listening to B and consider that move to South Florida?!?
Anywho - mid-March happens to be one of my favorite times of the year (I'm sure I've mentioned this before!), and not just because I can celebrate my Irish roots on a weekday, but because I am a total sucker for March Madness - seriously, I love me some March Madness bracket pools!
CBS Sports really knows how to do it, too - watching games online? The "Boss Button?" GENIUS.
We are in two pools this year; one with friends, and one with a large group of my family from back in NJ! It has been very entertaining over the past few days checking out the standings and watching my (sad) score hover back and forth!
I am looking forward to what the second round will bring - maybe B and I will have a stroke of luck and win one of our pools!! GOO KENTUCKY!!!
-----------------------------------------------------------------------------------------------
In other news - I have LOTS to share about how our wedding plans are going (!!) and have stories and pictures to share from my best friend's wedding that took place in Hometown, NJ (ish) last Friday, March 12th!
Things sure have been busy around here, but we are approaching the end of our seriously crazy busy time, so I will be around to share/catch up more often; I know, you are all SO relieved :o)
Alright, it's time for me to make the most of this BEAUTIFUL day and get outside - I hope you all enjoy your weekends!!