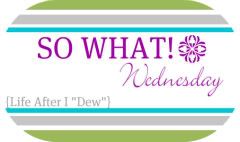 Hopefully, you're already reading Shannon's blog over at
Life After I Dew
. If not? Get on it, stat. When Shannon asked if anyone would be interested in guest blogging for her "So What Wednesdays?" I jumped at the chance because I love a weekly tradition, and it feels good to get some stuff off our my chest.
So, head on over and check out my
guest post
where I say "so what?" to paint covered nail polish, runaway puppies and 11:30 PM dinners. Yep, you read that right!
Happy Wednesday!!