30 weeks?! How is that even possible? I feel like just saw those two pink lines I had been waiting months for just a few short weeks ago.
Reaching 30 weeks has been a huge milestone for me in so many ways. It feels like the end is in sight, and although that scares the daylights out of me in some ways, with not knowing what to expect as far as labor & delivery goes (yet), it also fills me with so much excitement as we prepare to welcome Gavin.
Although the end may be in sight, I'm not quite to the point where I'm dying for this baby to come out just yet. Ten weeks is still a good amount of time for G to keep growing and thriving in there, and we still have a bunch of stuff left to do around here before we are good and ready for him. I still need to update our hospital records with the pediatrician that we chose, we have childbirth and breastfeeding classes coming up at the end of June, and I have barely started thinking about packing our hospital bags. I have piles and piles of baby laundry to do, drawers and closets to organize, and we are still planning on having new railings installed on all of our stairs before G's arrival. Not to mention, I am actually planning to pay someone to give my house a good, deep clean shortly before my due date.
We still have two more baby showers, one of which is at my parents home in NJ this coming weekend. I cannot wait for this special celebration with the family and friends I have grown up with.
So, you can imagine my anxiety when I had one of those days over the weekend where I felt like I may have pushed myself a little too hard. My Braxton Hicks were more regular than I was used to, and I just felt like there was too much tightness going on down there in that belly. I took this as a sign that it was time to slow down, propped my feet up and drank plenty of water. The rest of the weekend was very relaxing and I am so glad I gave myself the break from running around. It made a world of difference.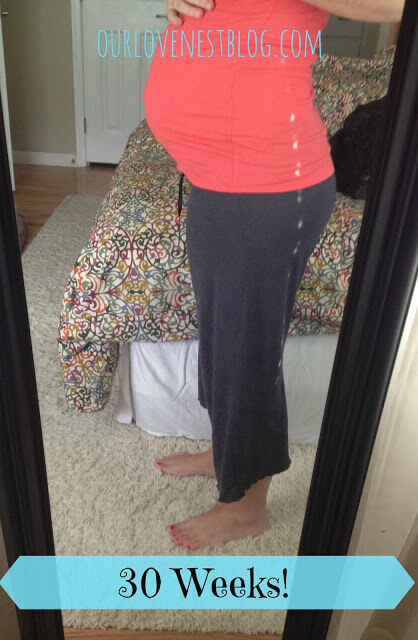 How
far along are you? 30 weeks as of 5/14/13
How I'm feeling: Feeling great as long as I don't try and do too much in one day. Heartburn is still raging, but my doc cleared me to take Zantac up to twice a day. One every 24-36 hours has been working wonders. I am still feeling some discomfort in my rib cage (right side), which I read could mean the baby's head is up in there. But, all other signs (kicks, bulges, etc.) point to him laying head down.
Total weight gain: 1

7

lbs. as of 5/3/13 (getting weighed in again on 5/15)
How big is baby? G is somewhere around the size of a head of lettuce, close to 18 inches long (whoa!) and a little over 3 pounds according to my 'What To Expect' app estimates.
Maternity clothes: Yes! Dresses, tanks, leggings - basically whatever is comfortable that day.
Stretch marks? Still no, somehow!
Sleep: Sleeping pretty well, but often waking up and having to shift everything around to alleviate hip pain.
Best moment this week

:

B spoiled me on Mother's Day. He cooked all of my meals, and barely let me lift a finger all day long. It was a much needed, relaxing day!
Movement: Still

one

active little guy!
Food cravings: Frozen Yogurt with all.the.toppings. (Yes, still. Oh, and brownies.)
Food aversions: Nothing at this point. Between 5-7PM each day, G is at his most active, and that makes me feel full and uncomfotable for a bit, but I have still been able to snack/eat dinner most nights.
Labor signs: Braxton Hicks are definitely not going anywhere anytime soon. They got pretty frequent on Saturday, hence my 'time off.'

Belly button in or out: Well, the answer to this questions hasn't changed in about 15 weeks.
What I miss: Cocktails, waking up feeling refreshed, and not getting out of breath every time I climb the stairs.

What I'm looking forward to: Two more baby showers and getting to celebrate with lots of family and friends. We are also planning for a long weekend at the beach to relax and celebrate B's birthday at the end of the month.
Milestone:
I passed my glucose test (hallelujah!), and reaching 30 weeks feels like a pretty big one for me. We are narrowing down our list of 'must-have's' and must-do's' before G arrives and I am feeling pretty confident that we'll get it all finished.