This week felt extra special for me. Gavin is squirming a lot these days, and I am almost able to make out whether what I feel is an arm, leg, etc. He also gets the hiccups pretty much every day. Poor little dude.
The end of May is fast approaching, and I am just starting to get to the point where I am feeling 'ready' for our Little G to make his big debut. Sure, I'm still scared of going through labor and delivery, but I am so desperate to meet him and lay eyes on his sweet little face that I am beginning to forget about the inevitable pain and surprises that will occur before then.
We also celebrated B's 29th birthday over the weekend. I loved having the extra time with him while we took a quick trip down to the beach. Turns out it may end up being our last one as a married couple with no babies. On our way home yesterday, we talked about how different things will be next time we load up the car, Gavin in tow, to spend a few days 'relaxing' down there. There is nothing that excites me more right now than picturing our weekends with Gavin.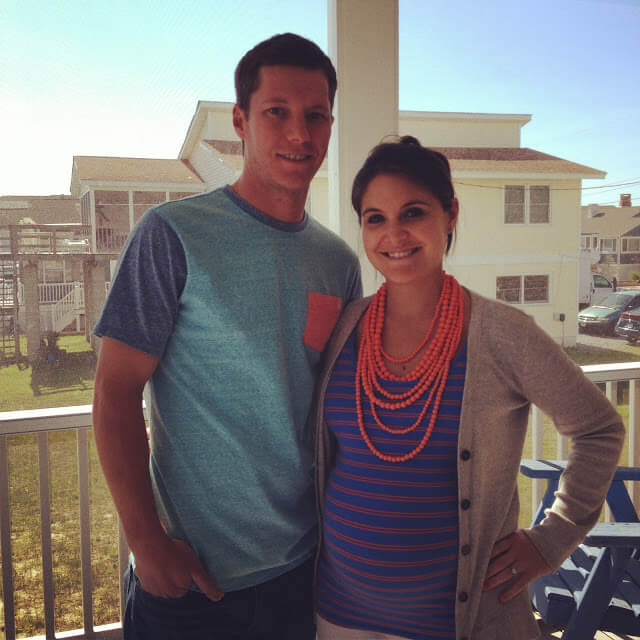 The weather was pretty unusual for Memorial Day weekend. It was chilly and rainy on Friday, and stayed breezy for most of Saturday and Sunday. The sun was shining, but this Momma wasn't exactly feeling like it was the ideal time to lay on the beach all day. So, we spent our days taking walks on the beach, did a little beach shop shopping, indulged in a few of our favorite beach treats, ate yummy meals and caught up with some friends at a few of our favorite watering holes.
The days seemed long, but the weekend flew by. I couldn't stop thinking about how much our lives are getting ready to change on our long, traffic-filled ride home yesterday. We even played a little bit of a guessing game about what day we think G might make his official arrival. Most people tell me I'll probably be late, it being our first baby and all. But, I have a sneaking suspicion that may not be the case. I guess we will have to wait out the next eight weeks to find out.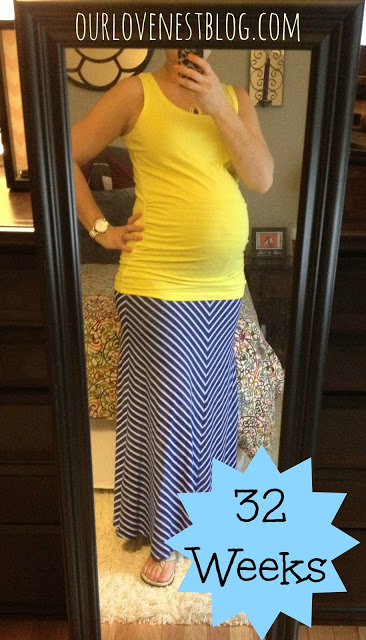 How
far along are you? 32 weeks as of 5/28/13
How I'm feeling: Still battling heartburn and starting to slow down a bit. Between the pain in my hips in the morning, and how tired my legs are at the end of the day, I now totally understand what people mean when they say that the 3rd trimester gets uncomfortable. Oh, and peeing ALL.THE.TIME.
Total weight gain: 1

9

lbs. as of 5/15/13 (getting weighed in again tomorrow and I have a feeling I broke the 20lb. mark)
How big is baby? My app tells me that G could be as long as 19 inches and weigh close to 4.5lbs! I am just DYING for my doctor to give me a more real estimate. I have actually been dying to get another ultrasound, and word on the street is that that may not happen at all. I think G is head down most of the time. I have deduced this by where I feel the biggest kicks versus where his hiccups usually come from. Any advice on figuring out his actual position without the doctor?
Maternity clothes: Obviously. And the summer heat is arriving this week. Oy.
Stretch marks? I could cry while writing this. I found my first set of stretch marks on the backs of my thighs, right below my big ol' butt this morning. I am beyond depressed about it, and it looks like I may now be one of those Moms that wears the bathing suits that have skirt bottoms from here on out.
Sleep: Getting comfortable is not easy, and there are not enough pillows in this house for me to bring into bed and wedge in all different places. But, once I'm comfortable enough, I'm pretty much out like a light.
Best moment this week

:

Spending a long weekend away enjoying one of our last extended periods of time as a married couple without a baby. Celebrating B's birthday was extra fun, too!
Movement: G is active almost all the time, or so it seems. He is constantly squirming, kicking and getting the hiccups, but I love sitting there and feeling him move and grow, even if it's a tad painful from time to time.
Food cravings: Still craving sweets like I have throughout this pregnancy, and nothing satisfies my mid-afternoon hunger like a hot bowl of mac n' cheese. Mmmm.
Food aversions: Eating well other than when I am feeling huge and full.
Labor signs: Braxton Hicks are still kicking. They're irregular but still happening almost every day. I am also starting to feel like my belly is dropping a little. Before it was a comfortable support for my boobs, and now it's more like the belly is starting to rest on the tops of my hips/thighs.

Belly button in or out: Next!
What I miss: Laying on the couch and feeling comfortable. It takes me far too long to get comfortable now with this basketball/watermelon around my midsection.

What I'm looking forward to: My NJ shower was awesome. G and I were spoiled by all of the love and presents we received, and I barely got all of the loot home in one carload. We have our last shower coming up on June 9th, hosted by two of my besties. It will be a fabulous time for me to catch up with girlfriends and get some much needed advice from all of the young Mommies that I know.
Milestone:
32 weeks feels like a pretty good one in itself. We are done with our true out of town weekends, so we will be local from now until G's arrival, for the most part. Most of the baby laundry is done, but I am still feeling like there is a LONG way to go before the nursery is organized in a way that makes sense and doesn't make me feel overwhelmed. It is my goal to continue working on the nursery and my kitchen over the next two weeks. The nesting is in full force.