I think it goes without saying that our taste in music changes as we grow. But, although I may not listen to the local rock station like I did from time to time in high school, there are a few artists that I have loved since the moment I first heard them, and I don't think my age, or the season of my life will change that.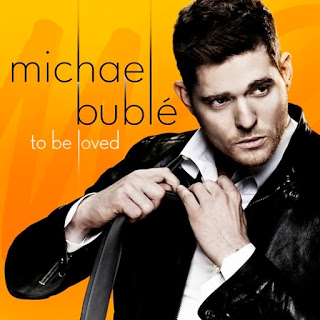 There is something about Michael Buble's voice that just relaxes me. I would be lying if I said I didn't buy an album of his about once a year to add to my collection. I still love popping his CDs into the player in may car and turning up the volume. Especially the holiday ones! I have also been known to play his music (often on repeat) during a dinner party, and had a playlist chock full of his covers and songs on the cocktail hour playlist for our wedding.
Well, Michael just released another brand new album called 'To Be Loved' which features covers of classic songs, as well as a few that Michael wrote himself. To Be Loved, out now, finds the Grammy winner covering songs by Frank Sinatra, the Bee Gees, Jackson 5, Elvis Presley, Van Morrison, and more. In the mix of golden standards are four original songs co-written by Bublé, dipping into his personal life for inspiration.
My personal favorite is the new tune wh

ere

he teamed up with Reese Witherspoon. It's called 'Something Stupid' and it's perfectly fun and playful. And who doesn't love to hear Reese's natural singing voice?
To find out more about his new album, or to order a copy for yourself, click here!
I participated in this campaign for One2One Network. I received a free copy of the album to facilitate my review. By posting, I am eligible for incentives. All opinions stated are my own.