Each year around this time, I fill with excitement. When the days become longer and warmer, it does something good for my soul. And once May rolls around, I feel like summer has basically started. I get out my flip flops, sunblock and beach towels and start planning our first trip to the beach. Obviously our trips this summer will be much fewer since I don't plan on leaving the county after June 15th, but that still leaves us some time to steal away for a few days, hopefully returning sun kissed and relaxed.
Not that I need another excuse to shop, but when the seasons change, I always get inspired to stock up on some fun, new items that will last me through the summer. I love items that are brightly colored, fashionable, and easy to travel with. Of course, there are the every summer staple items, and each year I try adding a few new ones to my repertoire.
When I find an item that I just don't know how I ever lived without, one of the first things I usually do is share it with a few of my best girls, because I don't want them to miss out on the fun! Lucky for me, I have a few friends that do the same. A girl can never have enough beauty and fashion secrets, am I right?!
Now that summer is just around the corner, isn't it time we all had a little shopping fun? IRL bestie, Aliya and I wanted to share a few of our most favorite summer items with all of you, and one lucky reader will win this ENTIRE BAG full of summer goodies!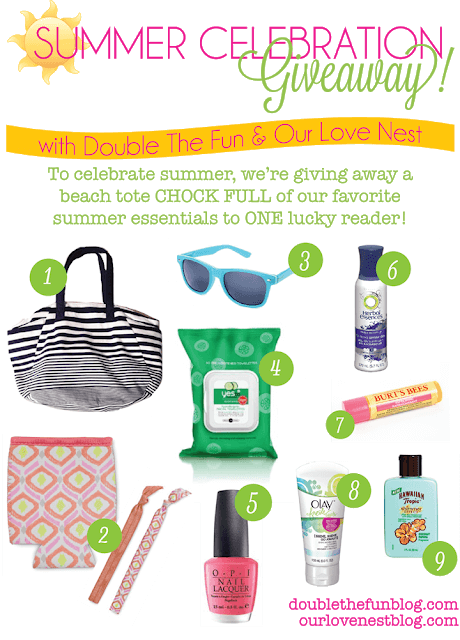 Adorable Canvas Beach Tote from Old Navy with a punch of coral on the inside - of course we had to provide you with some sort of tote to keep all of your fun prizes in! This bag is perfect for the beach, to use as an extra diaper bag, or just for running errands around town. I foresee this bag traveling everywhere with Gavin and I this summer. You will love it!

Fabulous printed Koozie with Matching Headbands (by All for Color) - A girl can never have too many accessories! These All for Color items are bright, fun and totally girly. Use the koozie to keep your beverage cold while sitting on the beach, and the headbands are perfect for keeping those pesky fly aways out of your face!

Summer Shades in this season's hottest color (by All for Color) - these are one of my favorite items. All for Color shades in wayfarer style and the teal is too cute for this season!

Yes to Cucumber's Calming Face Wipes - Both Aliya and I have mentioned these wipes before. They're perfect for freshening up, or if you're like me, you can use them to get some of your makeup off right before you fall into bed at the end of a long day. They are refreshing and smell great, too!

OPI's Strawberry Margarita Nail Polish - no summer is complete in my world without a few fresh coats of Strawberry Marg. Throw this one in your beach bag and have it with you for touch-ups while you're out of town!

Herbal Essences Tousling Spray Gel - Natural, beach waves are all the rage this year. I love to hop out of the shower, tousle my hair a bit and not worry about it again for the rest of the day. You will love this spray gel, and won't leave home without it this summer.

Burt's Bees Refreshing Lip Balm in Pink Grapefruit - I have chapstick with me EVERYWHERE. From my nightstand drawer to my car console, you will find tubes of this stuff everywhere. I even throw some on with my makeup each morning in place of gloss if I'm feeling extra 'beachy' that day.

Olay Fresh Effects "Shine, Shine Go Away" Facewash - Obviously, being in the sun and the heat all day can leave you looking and feeling a little shiny and oily. Pack this new face wash from Olay and you'll be good to go after a quick wash!

Hawaiian Tropic Shimmer Effect Moisturizer - And, of course, you can't be in the sun all summer long and not moisturize. Now that I'm pregnant, I am ashamed to admit how often I moisturize my skin, but there is no such thing as too much lotion, right? The shimmer effect of this new moisturizer will leave you feeling sun kissed and ready for a fun night out! Or if you're me, a fun night in sipping on a virgin cocktail while your hubby rubs your feet.
Are you excited yet!? We have been bursting at the seams in preparation for this giveaway, and we just know that whoever wins this bag full 'o goodies will be celebrating a fabulous start to their summer!

Simply use the Rafflecopter widget below to enter the giveaway. We're kicking things off today, and will keep it open until Friday, May 17th! A winner will be selected and announced by Monday, May 20th so you get your goodies in time for your Memorial Day weekend plans!