All my life, Sundays meant up early for a quick breakfast and a quick argument before church. The argument was usually between myself and one of my sisters, and was more than likely over clothing. If it didn't involve me, chances are, it definitely involved at least one of the four women in my family.
Then, we'd pile in the minivan and make our way the whole two miles from the house to pop into church just as the worship part of the service began.
Skipping church on Sundays was not an option in our house. In fact, when sleepovers became cool, I was never allowed to host or attend one on a Saturday night. Fridays were fair game, but Saturday night, we all slept at home in our own beds, preparing ourselves for the inevitable wakeup call from my Dad bellowing down the hallway bright and early the next morning.
Can I be honest? When I was fifteen, this was one of the things that irked me the most about my parents. I could really, never skip even one Sunday with my family? I couldn't understand then the values that they were instilling in me week after week. And, each week when we ended up back in the pew as the worship team sang, I felt at home.
In the spirit of honesty and full disclosure, B and I have been skipping church a lot lately. I am not sure exactly when or why this pattern started, but somewhere over the last few months, we stopped attending our usual 11AM service each week, something that we had done pretty consistently over our four years of dating, and first year of marriage.
I've asked myself if there is some sort of deep rooted reason for this. After all, our church services always help to ease my week's burdens, and help me to feel more connected. There are so many options now that churches are streaming their services live every Sunday, and we have definitely utilized the iPad to watch Andy Stanley on several occasions, but it's not the same. I need the fellowship and I love listening to the worship music live.
It's time to get back to the basics, and I am so glad that B and I are on the same page with this.
How do you spend your Sunday mornings?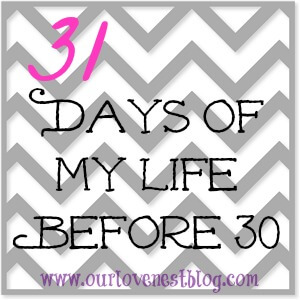 To read the rest of my 31 Day series, click here.