Well, today is the 'big' day. My whole reason for choosing this topic of '31 Days of My Life Before 30' was because my 29th birthday was right around the corner.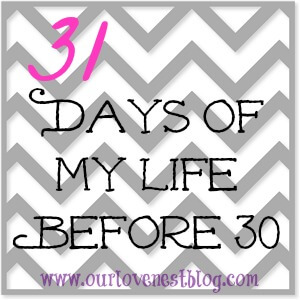 Today, I officially enter the last year of my twenties. On one hand, I'm still not comfortable with that number, but on the other, I have been hearing all week long how 'my 30s will be the best years of my life so far.' So, bring it on.
This year is going to be full of growing my business, and continuing to make this blog a part of, and a way to document our life. There will be weddings, celebrations, laughter and tears. Riley will turn two, and my husband will join me in the last year of our twenties in a few months. I will strive to make our marriage a priority, even when I don't feel like it. I will continue to cherish the friendships that I have, and hope to cultivate a few new ones along the way. I will make time for my family, both the one I came from and the one I married into. We will travel to Florida and make it back to the Delaware Beaches, and maybe even get to plan a babymoon.
One of the things I hope to do during my 31 Days is come up with a list of attainable goals for myself to reach before I officially turn 30. Today, I'll put that list on the back burner. I'll soak up the time I have with my husband this weekend, and I'll relish in the feeling of 'starting over' one more time.