Well, by now I'm sure you're familiar with this 31 Day linkup that is sort of taking the blogging world by storm today. The Nester is hosting this annual linkup again this year, and lots of my favorite bloggers are participating. It may be a challenge for me to keep up with the every day posting this month, but I think I am up for it.
Today is the first day of October. This also means that today is the first day of my birthday week. Typically, I am all sorts of excited for birthday week. I sometimes buy myself something new, often have birthday plans with my husband (yay, date night!), and usually get together with a few close friends. I have even been known to plan a little birthday costume party.
This year is different.
I find myself taken aback that I am entering the last year of my twenties. I see myself staring 30 right in the face, and I'm not ready. In fact, I'm scared. What do I have to show so far for my 29 years? Where did I think I would be at 30? What do I still want to accomplish? To see and do? What will I do with this next year to prepare myself for the next 30?
So, I am accepting the challenge. I plan to look inside of myself, maybe do a little soul searching, and figure out what this next year of my life will look like. And, I'm going to use this new month, and this challenge, to do so.
I hope you'll join me on this journey. And hey, maybe by the end of the month I will decide that 30 IS the new 20!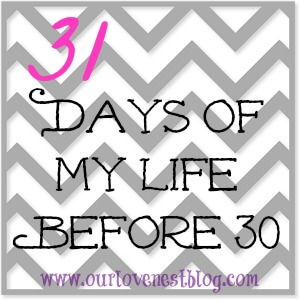 Don't forget to check out all of the other fabulous bloggers that are participating this month. There is no doubt that we can all find some humor, fun and inspiration!
To catch up on the rest of my 31 Days series, use the below links:
31 Days of My Life Before 30: Day 2
31 Days of My Life Before 30: Day 3
31 Days of My Life Before 30: Day 4
31 Days of My Life Before 31: Day 5
31 Days: Day 6
31 Days: Day 7
31 Days: The Saver & The Spender, Days 8 & 9
31 Days: The 'Off' Button, Day 10
31 Days: On Owning A Home, Day 11
31 Days: Planning & Pleasing, Day 12/13
31 Days: I Cheated on Halloween, Day 14
31 Days: Pumpkins, Hayrides & Girlfriends, Day 15
31 Days: Where Our Life Happens, Days 16 & 17
31 Days: Dropping the Ball, Days 18-25