It's Project Pinterest time again! Mondays sure have been busy around here. You definitely want to check out this week's linkup for more yummy recipes and DIY ideas!
There are a few items that are a little bit too expensive for me to just buy for no real reason. They typically stay on my wish list until they go on sale, or I find a less expensive alternative.
This is especially true for home decor. I buy a lot from Home Goods, but there are certain items from Pottery Barn or Ballard Designs that I find myself lusting over.
These Ballard 'Garden District' mirrors have been on this list for a while. I simply couldn't bring myself to pull the trigger on them, so I kept looking for other ways to recreate the same look.
This, of course, brought me to Pinterest, where I found a few ideas from other ladies that had the same thought pattern.
I seriously considered buying a few cheap mirrors and trying to achieve the look myself, but the thought of tracing it by hand scared me. So, I put the idea on the back burner once again.
Until one day I was strolling through the Target aisles, and I did a double take.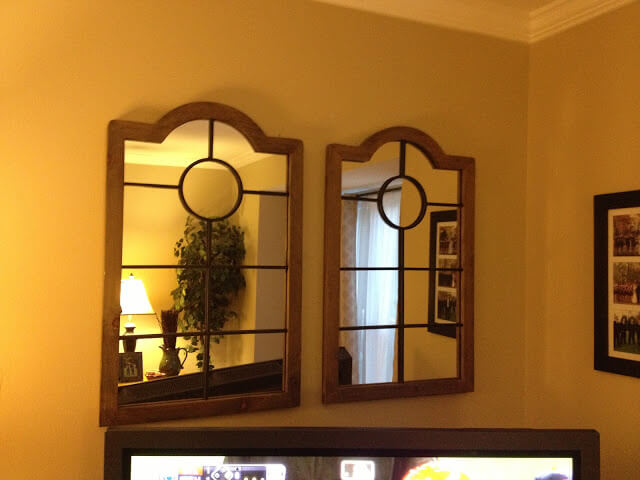 Aren't they gorgeous? I immediately grabbed one and placed it in my cart. Then, as I stood there thinking about where I would use it, I instinctively grabbed the last one on the shelf so I would have a pair.
Although the price tag was a little higher than I expected to pay at Target ($59 each), I knew that the mirrors would be the perfect change for my living room.
The living room on our main level is long and narrow, so I have been making a few small changes lately to try and make the room appear wider.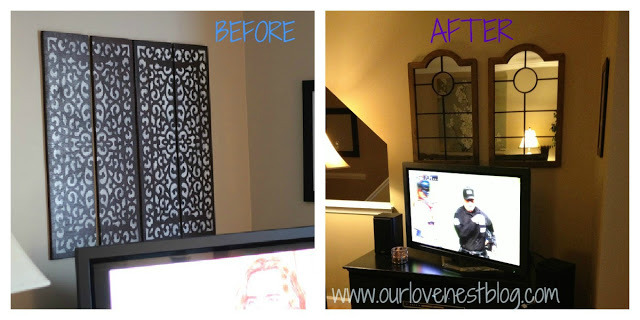 My apologies for the quality of the after photo! I think the mirrors have opened up and brightened the room, and I am thrilled with how the room looks at this point.
I would still call this a work in progress. Do I need to add something else to the wall? Or perhaps add some art on the wall to the right instead of the picture frame?
I am now accepting suggestions on how to complete this project! Thanks in advance and Happy Monday!