Let me start by saying that I am so happy that I took the plunge and decided to challenge myself with the 31 Day Challenge this year. It has reinvigorated my love for writing for myself, and trust me, I needed it.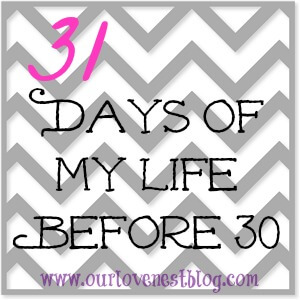 Another thing that I've noticed about this writing streak that I'm currently in is that it has brought out my more serious side. My apologies if things seem a bit mundane this week, and you can go ahead and call it a quarter life crisis, but this time of reflection has been good for me both emotionally and physically.
All that aside, today will be somewhat more lighthearted, as I visit one of the Life Lessons that I've come to realize during the few short days of my reflecting process.
Plain and simple, I think I'm finally starting to learn how to dress for my body type. Without boring you on the how's and why's and all of the experimentation I've done over the years with trends, let me just say that the reality is that girlfriend has got some junk in the trunk. And thighs. Maybe that makes me a 'pear shape?'
As much as I love skinny jeans, the truth of the matter is that they only look good on me when paired with a loose fitting blouse, or tunic style top that covers said 'junk.'
I'm not complaining about this realization, I'm simply putting it out there. Having a bit more 'booty; is a family thing, and it is what it is. Heck, it's even one of the reasons that B was attracted to me in the first place.
The difference between what I've done in the past, and what I plan to do now that I'm getting older and wiser, when it comes to dressing my figure, is that I no longer care so much what the tag says. I've learned that every store I shop in uses different measurements, some which may or may not come from pre-adolescent girls, but if the four fits, I'll take it. And, if the I can't squeeze my butt into the six, I'll go for the eight and call it a day. The only place this may not be true is in the swimsuit category. A category that I don't plan on visiting again until next summer when it becomes a necessity.
In an effort to stay true to this new outlook on my personal style, I have recently gone through my closet and gotten rid of anything that wasn't flattering, or just plain didn't fit any longer. Sort of like starting over. I'm sure I'll get the occasional comment when I no longer have the appropriate Forever 21 top to wear out to the bar, but I think I'm OK with that. After all, dressing for the age of 29 means maturity, right?
And yes, I am fully aware that this may be the start of me turning into my Mother.
To read more post on my 31 Days journey, go here, here or here.