I am a bit behind the eight ball this morning, but you can bet that I wasn't missing a chance to linkup for Project Pinterest this week. It's only week four, but I already love sitting down with my cup of coffee and perusing the weeks' projects in search of new ideas and inspiration!
Since I haven't completed my newest project yet, I decided to share a project that B helped me with earlier this year. It is one that we use all the time, and has become a favorite in our house.
DIY Kitchen Window/Chalkboard Project
I have been living in a DIY frenzy lately. Typically, I line up 5-6 projects that I'd 'like to do, and then a month will go by before I realize that I've only completed one of them.
Darn you, Pinterest.
My inspiration for this pin came from here and here. I was gifted, by one of my
dearest friends
, with an old farm house window to use for my window/chalkboard project. I have always wanted some type of chalkboard in my kitchen. Something I can use to post notes to B, reminders, weekly meals, and eventually, something I can use with our kids.
I finally got around to starting this project, and by starting it, I simply mean that I recruited my handy husband to help with the sanding, taping and spray painting.
We used a sanding block around the rough edges to get rid of some of the old paint that was on the window, then sprayed all of the trim you see below with a fresh coat of ivory colored spray paint.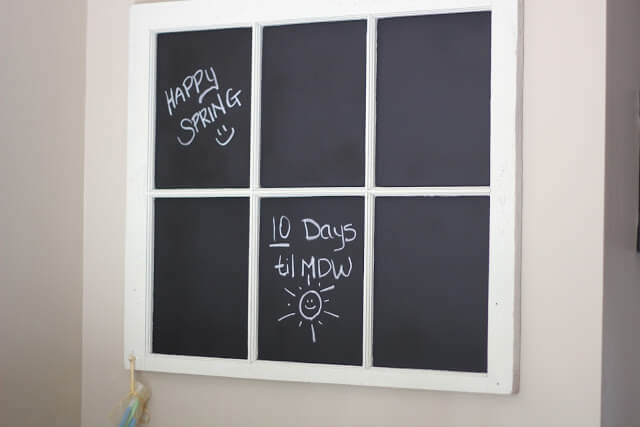 We allowed this to dry for about a day, then took the paper/tape combo that we had used to cover up each window pane off, and taped the wood trim for good coverage.
I was a bit nervous to see how evenly the sprayable chalkboard paint was going to come out. I bought the Krylon brand on one of my many trips to Hobby Lobby.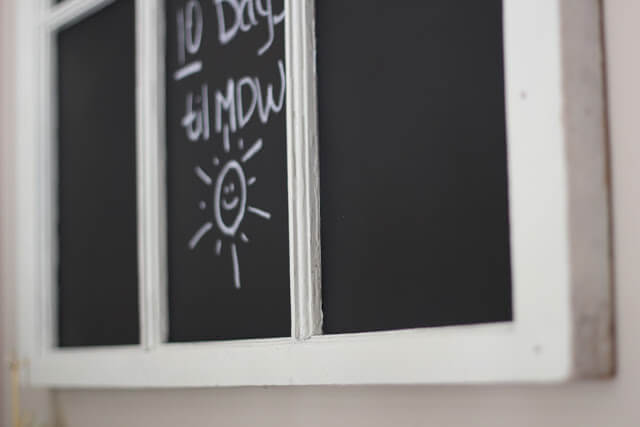 I would definitely recommend this paint. We used two coats, but I felt like it sprayed on easily and evenly, and it's a great surface for writing now! We also gave the chalkboard paint a day to dry really well before we tried anything on it.
Then, we attached some picture hanging hardware to the back of the window, and voila!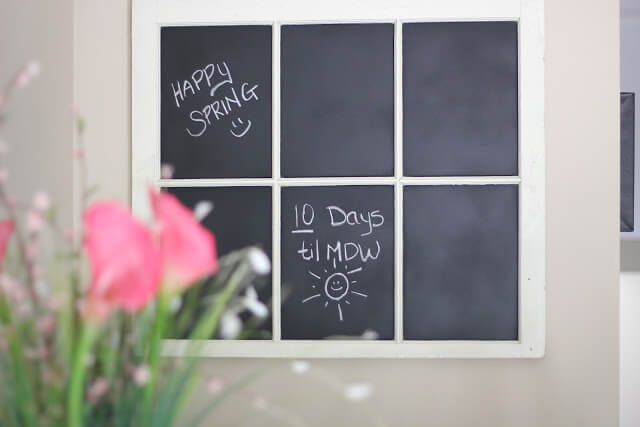 I just love the way this project turned out. It adds so much character to my kitchen, and makes a nice, bold statement as well. If you are interested in a chalkboard for your kitchen, I would definitely recommend grabbing an old window from an auction, etc. because I think the style and size is the perfect fit!
Make sure to check back next week, when I will finally finish the project that I have in mind for these new beauties that I scored at Target last week!