Well, it's Monday morning again, and we're already one full week into my 31 Day series.
We had a busy weekend. We traveled to Virginia Beach on Saturday for one of my old college roommates' weddings. She was an absolutely stunning bride, and we had a fantastic time celebrating my birthday while we were there.
The reception was at an old officers club that was right on the beach. At one point, B and I were sitting outside in the warm, summer-like air just chatting. It was such a beautiful night, and beautiful place that we got to talking about what it would be like to move further south. We have talked about this before, but there is a part of me that is always holding back because I feel like it makes the most sense for us to at least live near one of our families since we are planning on growing our family in the very near future. But, I couldn't help but get a little bit swept up that night.
It got me to thinking, what is really holding us back from making a move like that? Sure, we have started to grow roots here in Maryland, but I am not sure this is where we'll stay for the rest of our lives. There is something romantic about dreaming up what our lives could be like if we moved and started over. Living just a bit further south, even in Virginia, somewhere near the water would have its perks.
Who knows what the next few years will bring. Will we stay put where we are? Maybe move a bit closer to my family back in NJ? Or maybe, we'll start over in a brand new place, a place where we can make new memories and fall in love with a new city.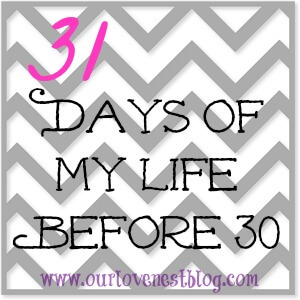 You can read the rest of my 31 Days series here.