It has taken me many years, relationships, heartaches, arguments, plans and cancellations to recognize that I am a 'pleaser.' I don't even like the look of that word on the page, let alone the sound of it coming out of my mouth, but it's true. Maybe it's the first born, older sister in me, or maybe it goes way deeper than that, but I tend to worry a little too much about what people think, and sometimes change my mind or plans in order to please others.
Not everything about being a pleaser is negative. I love making other people happy by surprising them with little things or just spending some good old fashioned quality time with them. I have so many quality relationships in my life that I wouldn't trade for the world, and I know that this quality is part of the reason that I have been able to maintain them.
But, sometimes I crave more time alone. More time with my husband, or more time to make spontaneous plans. I have the tendency to plan my life about three weeks in advance, so that doesn't leave much room for spontaneity or 'me time.' I don't want my desire to please other people to effect me, or my relationship with my husband negatively.
I got an email from my Proverbs 31 daily devotions last week that talked about trying to cram too much into an already 'overfull' life. I was convicted immediately. The author went on to say that the way she dealt with her over committing was by writing out everything that she wanted to accomplish each day, week or month, soaking it all in, and then allowing herself to eliminate items that she didn't think were part of God's plan for her life. Whew, convicted again.
Too many times, I overbook myself to the point of exhaustion. I spend so much time adding items to my calendars and five different to-do lists, and then when I stop to measure it all, I realize that no one person can accomplish each and every one of these things!
So, another goal that I want to set for myself during this next year as I approach thirty, is to be more deliberate and picky about how I spend my time. I may not be able to schedule three lunch dates every week, and the cleaning might not always be finished, but I want to leave myself more time. Time to spend relaxing. Time to realize all that I have accomplished, and stop focusing on what is left on all of my lists.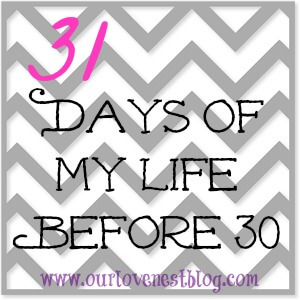 To read the rest of my series, click here.