It's no secret that I love to cook. To me, preparing a meal is one of life's simple pleasures. I can spend hours in the kitchen sipping on a glass of wine and streaming the Bachelorette while I try out a new (and time consuming) recipe.
Although I'm no chef (but totally think that would be so much fun!), I do have a short list of things that I simply could not survive in my kitchen without!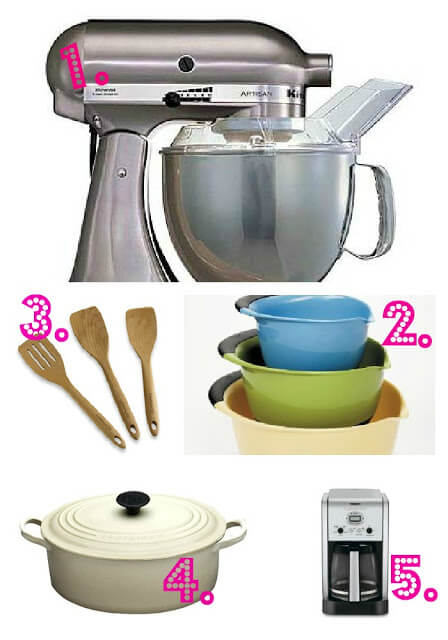 1.
Stainless Steel Artisan Kitchen Aid Stand Mixer
. I love, love, looove my Kitchen Aid mixer. I had never even used one before we got married. And, even after I got my Artisan mixer, it too me months to take it out of the box. But, once we moved and I had the counter space for it to call its new home, I was hooked! I use it mainly for baking, and cannot believe the difference it has made for recipes like
homemade strawberry cupcakes
and
mini raspberry cheesecakes
!
2. Rubbermaid Stackable Mixing Bowls (Set of 3). What kitchen is complete without some good old fashioned mixing bowls? In our house, we have taken mixing bowls to a whole new level of functionality. We use these suckers for everything from marinades, to popcorn, to cake mixes to a defrosting station for our frozen meat. I swear I wash these things at least 6 times per week, but they really have been worth their weight in gold.
3. Calphalon Wooden Utensils. This item may seem like 'no big thing,' but trust me, I use these utensils for pretty much every meal I prepare. They're perfect for sauteing veggies, stirring risotto and even flipping pan seared fish!
4.
Le Crueset 3 Qt. Dutch Oven
. I was gifted this item by one of my
besties
for our wedding. She swore up and down that it was a 'must-have,' and since I take lots of kitchen advice from her, I was totally on board.
Boy, was she right
! I use our dutch oven pretty much exclusively for risotto and soup recipes, but I'm hoping to expand that to other hearty dishes this fall. It warms up nicely, cooks evenly, and it's a breeze to clean. A+ in my book!
5. Cuisinart 12-Cup Coffee Maker. This one pretty much goes without saying. We don't function well in this house without coffee, so this thing is brewing every.single.morning and there are a lot of mornings where I seriously doubt I could even start my day without it. I have found myself wanting a Kuerig recently, but this system has treated us very well so far.
**Speaking of Keurig's - who has one? Do you love it? Is it worth the price tag? I feel like we would be the perfect couple for it, since we drink our coffee about 1-2 hours apart, and I just l-o-v-e a super fresh cup. Advice please!
I hope you all had a fabulous 4th! We spent time with some close friends at a nearby pub, enjoyed some 'American bar food,' rocked out to a 90's over band and even saw a pretty great fireworks show! All in all, it was a fantastic middle of the week holiday here in MD!