Happy Tuesday! I am officially home as of last night. We had a wonderful girls weekend in ATL including dinners, drinks, shopping (of course) and The Mart. More to come on the trip later.
Today, I am thrilled to introduce you to one of my IRL best friends, Aliya. Like she explains below, we go way back. We've been roommates, bridesmaids in each others' weddings and so, so much more. She blogs over at Double the Fun about her beautiful family and crazy busy life with two kids under two! She's sharing some of her favorite summer recipes today, and I am thrilled not only add them to my repertoire, but to be able to share them with all of you as well!
--------------------------------------------------------------------------------------------------------------
Hello lovely Our Love Nest readers!! My name is Aliya and I am absolutely thrilled to be coming to Pam's neck of the woods today to guest post for her! You can find me over at
Double The Fun
where I ramble on about life with two babies exactly a year apart. No, really. They have the same birthday... For serious.
Pam and I go way back... like wayyyy back... like, before Britney went crazy back. We've been good friends for years and over that time we've shared a love for many things including unnecessary shopping sprees, chick flicks, bar crawls and good food. So when Pam asked me to guest post a few of my fave summer recipes, how could I say no??
In the summer, I try to avoid cooking heavy meals like chili, lasagna, soups, etc... I like cool and light dishes especially in the awful heat wave we've been having, it's so much more refreshing to eat a salad and piece of fish than say a bowl of beef stew. With that said, here is a full meal (appetizer, entree and dessert) that you should definitely add to your summertime menus! And, all of them will take you less than 15 - 20 mins. Take that, Rachael Ray! :)
Appetizer:
Bean Salsa/Salad/Dip
Not sure what to call this dish. Let's just call it AMAZING because that's what it is. This salad can be an appetizer, a snack or even a side dish. I promise if you try it, you'll never want to take anything else to a potluck or BBQ again! And its a nice transition from those greasy, cheesy, fatty dips that you normally see. Its the perfect summer treat! (
sidenote
: it makes a TON so you might want to think twice before doubling the recipe).
INGREDIENTS:
1/2 a red onion
2 avocados
3 plum tomatoes
1 can of black beans (drained)
1 can of Mexicorn (drained) -- I hadn't heard of mexicorn until this recipe, but its really easy to find in a regular grocery store. Its in the canned veggie aisle next to the corn and its made by Green Giant.
3 scallions
1 package of Good Seasons dry Italian Dressing (it comes in a packet, but its in the dressing aisle)
1/2 cup of regular Canola or Vegetable Oil (I'd use a tad less if you're omitting the onions... maybe use about 1/3rd cup
a sprinkle of regular, White, Distilled Vinegar (couple teaspoons)
Chop everything fine into small cubes. Add to a bowl, stir, and scoop with Tortilla Chips. Yummers.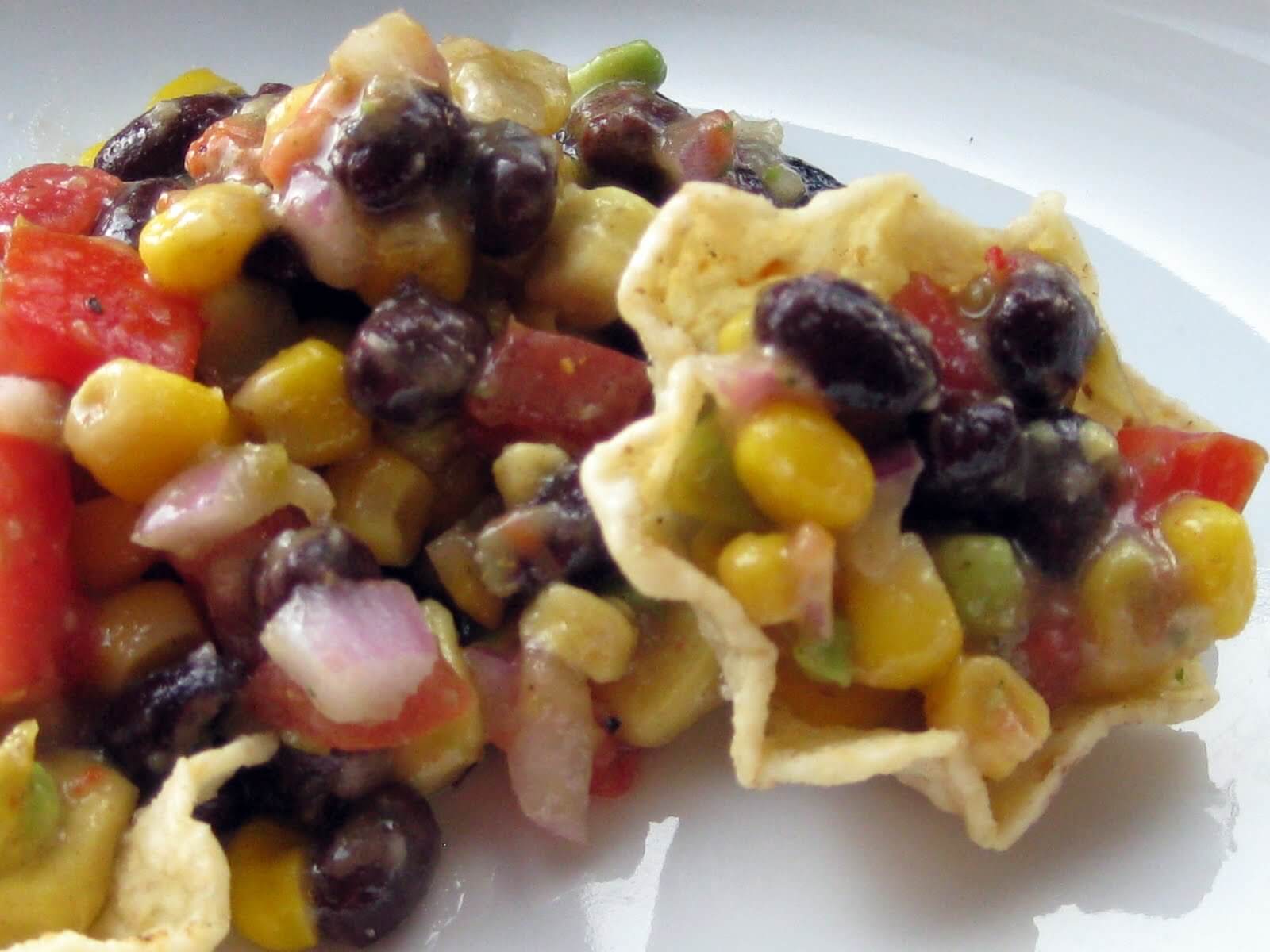 Entree:
Meyer Lemon Broiled Salmon
I could/should write a book on 1,001 ways to cook a filet of salmon. I love salmon and thankfully so does my family... we eat it at least once a week if not more. This is great easy, FAST recipe that even my Hubby (a lemon hater) loves. Meyer lemons are a special species of lemon that taste almost orange-y and less intense lemon. They are perfect for any time you want a hint of lemon without it being too overpowering.
INGREDIENTS:
Filet of Salmon (however much you want)
1 Meyer Lemon, sliced
2 Tablespoons fresh dill (or 1 Tablespoon dried)
Olive Oil
Salt/Pepper to taste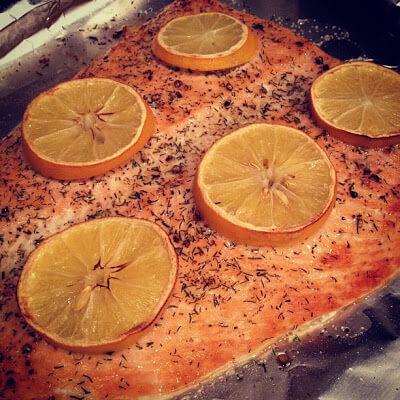 Line a baking sheet with foil and put your salmon (skin down, if it has skin) on it. Generously drizzle olive oil over the salmon and top with salt/pepper and dill. Place sliced lemons on top. Broil 10 - 12 minutes (for medium), 15 for well done.
Dessert:
Ice Cream Sandwich Cake
It should be known that I am NOT a dessert person. Like, at all. Occasionally I'll have a brownie or cookie, but that is few & far between. But this dessert? I could eat it everyday. And I'm not just saying that. Plus, it's a GREAT alternative to spending $50+ on an ice cream cake at your next BBQ or Summer Birthday Bash!
INGREDIENTS:
1 Box of Ice Cream Sandwiches
1 Box of Chips Ahoy Cookies
1 carton Cool Whip

Caramel Sauce
Begin by adding the Chips Ahoy cookies to a food processor and blending them until they form a crumble. Then, in a casserole dish, layer the following (like you would a lasagna) in this order: Ice Cream Sandwiches, Cool Whip, Chips Ahoy Crumbs. Do as many layers as you want (2 - 3 works best). Once you're done, drizzle caramel sauce all over the top. Voila! Instant ice cream cake heaven.
I never took a picture of this because I always devour it too quickly, but here is my son Ky loving/enjoying it at his cousin's birthday party a couple weeks ago :)
Now hows that for a delicious and light summer meal?
Hope that you all will try some of these recipes! And be sure to stop by my blog and let me know if you do :)
Thanks again for having me Pamcakes!! xoxo