This summer has already proven to be very H-O-T. It's only early July, and in MD, that means the heat and worse, humidity, are just getting started!
There are a few summer treats that I just adore, and a certain few that remind me of my childhood. This recipe is one of those. I can remember eating this 'jello salad' every summer at my Aunt's house, and it was always a crowd pleaser. So, what better than to share it here with all of you?
Strawberry Pretzel Jello 'Salad' Recipe
Ingredients
2 cups crushed pretzels
3 Tbsp. sugar
3/4 cup melted butter (although my Mom and Aunt recommend 1 cup for better crust!)
1 cup sugar
1 bar cream cheese, softened
1 small container frozen whipped topping (I used an 8 ounce container of Cool Whip)
1 6 ounce package strawberry Jell-O
2 cups boiling water
2 10 ounce containers of frozen strawberries (I used one 24 oz. container)
1 can crushed pineapple
First, preheat your oven to its lowest temperature. In my case, that was 175, but you can do as low as 100 if you'd like. Begin by prepping crust. I eyeballed an amount of pretzels that I thought would equal about 2 cups when crushed, tossed it in a large Ziplock bag, and used a rolling pin to crush them.
Once your pretzels are crushed, combine them with your melted butter and 3 Tbsp. of sugar until the pretzels are well coated. Then, press the mixture into the bottom of a 13x9 inch greased pan.
Then, bake for 10 minutes. Allow to cool for about 10 minutes.
In the meantime, blend together softened cream cheese, 1 cup of sugar and whipped topping. Spread this mixture on top of cooled crust and CHILL (I chilled this for about 35 minutes).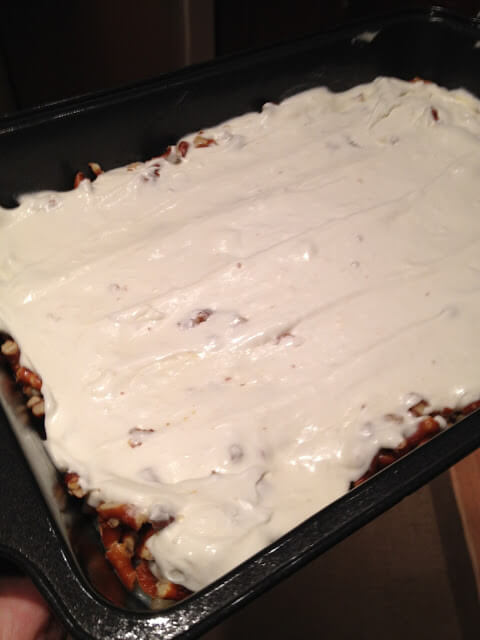 Next, boil your 2 cups of water. Once the water reaches a boil, dissolve the jello into the water, stirring continuously. Once the jello is dissolved, add the pineapple and thawed strawberries and mix well.
Pour fruit mixture on top of cream cheese layer and then CHILL overnight.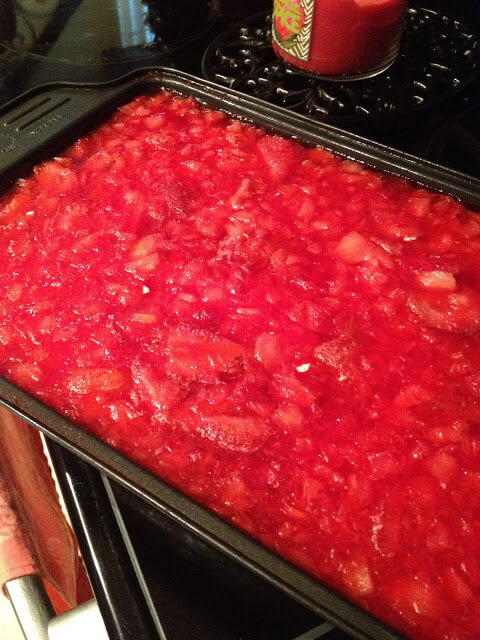 I think this is the perfect summer treat for any BBQ, and can be served as both a sweet side dish or a dessert!
ENJOY!!