I hope everyone's week is going well! Like I
mentioned yesterday
, I am headed to Atlanta for a long weekend with just my sister and Mom, and cannot wait for some quality 'girl time!'
Before I go, I wanted to share with all of you the July Special for 31. I also thought it would be fun to add a bit more sweetness to the pot, so keep reading, you're in for a treat!
Like you see above, the July Customer Special is that for every $31 you spend, you can choose from any of the 5 products shown above for just $5! Therefore, is you spend $31, you can get one (1) of these items for $5, $62 gets you two of the items for $5 (each), and so on!
If you've had your eye on some products for the last few months, July is a great month to get the most bang for your buck!
Also in July and August only, ALL PERSONALIZATION is just $5! That's right, from now until the end of August, anything you get personalized will be just $5 on top of the normal price of the product.
But, that's not all ...
I wanted to do something a little extra special for my readers this month, and as a nice summer treat!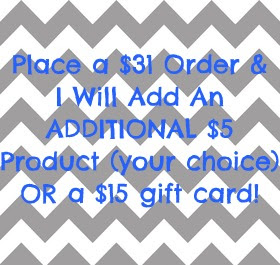 If you place a $31 with me in the month of July, I will throw in another $5 product (so, you'll get two $5 items for just $31!) OR a $15 gift card - you choice!
Please feel free to email me if you have any questions, or if you'd like to chat about your order at ourlovenestblog{at}gmail{dot}com