Today, I am delighted to introduce you to Tina from Like Ordinary Life. She is a fellow newlywed and I love her creativity and free spirit! I am so happy to have her here today, and you will just love her take on marriage a la a favorite movie of mine.
You know, it really would be fabulous if all of us ladies could meet in person some day soon for cocktails?!
--------------------------------------------------------------------------------------------------------------
I must preface this post by telling everyone out there that I have no business writing it. For starters, I am about to tell you about the first year of marriage and I'm only 9 months in. See? We told everyone it wasn't a shotgun wedding! Just… kidding… Also, Pam was having a lapse of judgment when she told me I could guest post. One point for me! Still, I'm pretty honored that you are here, on Pam's blog, reading my absurd ramblings. Thank you for humoring me, Pam.
There's this scene in the old Brittany Murphy/ Ashton Kutcher movie Just Married where an older, wiser man tells Brittany's character, Sarah, "Don't worry, the first year is the hardest." For whatever reason, that movie is what comes to my mind when I think about that old adage. Go figure. I'm not particularly sure I've bought into this school of thought quite yet. Here's why.
The first year has been hard.
First, there were my lost, only set of car keys the day of the wedding (thank you to my husband, family and wedding party for keeping it a secret until after our wedding day). I consider that primo uno in this game of newlywed difficulties. We got through it rather well. I sat half-naked on the big, comfy chair in our hotel suite next to my wrinkled, worn out silk taffeta gown and cried myself through an entire bottle of champagne. Alex ran a comb through his hair, shook his head and walked out of the room telling me "Pull yourself together... and get ready." See? We are just awesome as husband and wife.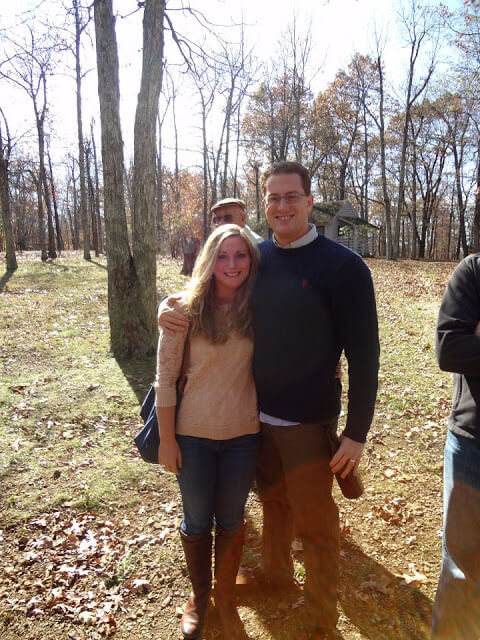 As you can see, I pulled myself together rather well that morning. Shout out to Uncle Jack for the photobomb. Yay, 12 hour old newlyweds!
Then, there was our honeymoon. If only you knew. I'll give you the highlights. Alex lost his wedding band. I broke my foot leaving the house. At the airport, I misplaced my Passport going through security and caused One Loud, Big, Obnoxious Scene. Homeland Security had to ask me to leave. (Don't worry, my Passport was safely awaiting my return lodged in between the laptop screen and keyboard.) There was a pilot who couldn't land our plane… three times. We had a bout of food poisoning, a geriatric hitchhiker who made clicking noises out of the corner of his mouth, and agonizing sunburn the day before our über expensive couples massage. Ouch.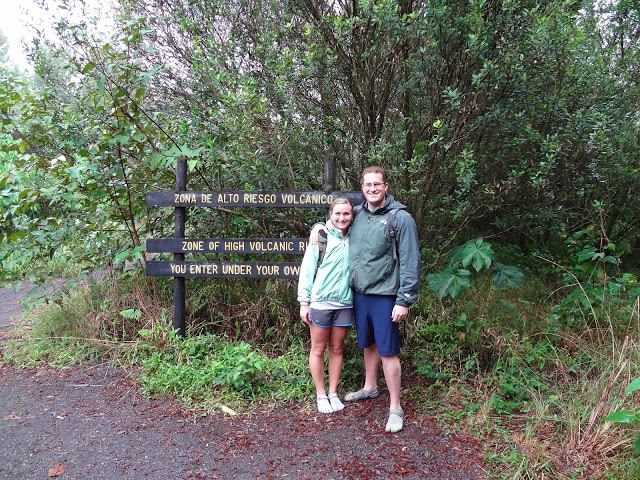 A broken foot didn't stop me from hiking. See that sign behind us? If only I knew it was talking about marriage and not the Arenal Volcano.
Since the honeymoon, we've had more than our share of disagreements, setbacks and curveballs. Honestly, more than in any of the other five years we've been together. So, sure, there is an argument that the first year has been the hardest.
But, did you get that? It's only been five years. No way, Jose: life isn't that easy: sign, sealed, and delivered to the courthouse with $35 cash, and 365 days later you are on your way to life in the fast lane!?!? I think not. If anything, the first year of marriage is a training session for the rest of our lives together. Newlywed bliss still hasn't worn off so we all have the glitz of our sparkling rings, a freshly stocked house filled with high quality wedding gifts, and a new signature we're still perfecting. Surely, this all helps us through the hard stuff.
In many ways, I'll buy into our first year of marriage being the hardest. However, those 5 years are all we've ever known together. Why do we marry, anyway? Somewhere in between the "I do" and happily ever after, I get to experience every prodigious up and down life has to offer with my best friend...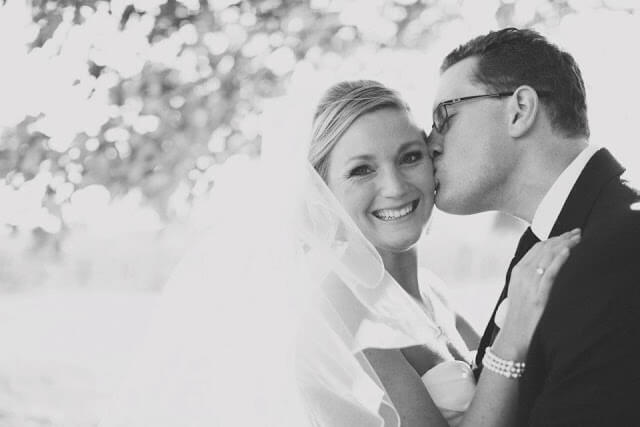 And for that, I count myself pretty darn lucky.
Thank you, again, for reading my absurd ramblings! Be sure to come visit me at Like Ordinary Life!