I hope you've been enjoying this week full of guest bloggers as much as I have! New recipes, DIY projects, and newlywed stories are, obviously, all right up my alley!

Last, but certainly not least, is Adrienne from La Vita è Bella

. And, like she describes below, she blogs about all things beautiful. If you haven't already been to her blog, you should definitely pop over. You may pick up a few ideas while you're there!
Again, that you Adrienne, and thank you to each one of my fabulous guest bloggers. You truly made this week a delight around these parts, and I hope to have you back some time soon!
------------------------------------------------------------------------------------------------------------------------
Hello! Thank you so much to Pam for letting me take over her corner of the web this beautiful Saturday! I have followed Pam's blog for close to a year now and on Twitter and I really love her point of view on things and she is among my favorite bloggers. I'm Adrienne and you can visit me over at La Vita è Bella

where I blog about all things beautiful.
I am a teacher but have a hobby of creating an events at the drop of a hat. This is evident during holidays and family gatherings when I get out my craft box and go to town making simple, yet beautiful place settings.
During Christmas last year, I created this lovely tablescape for our annual Christmas Day Dinner. All it took were neutral colored round placemats from Target, cloth napkins from William Sonoma, and three colors of reusable ribbon. Usually I create flatware wraps but because this was a special occasion, we used a combination of familysilver. The following was the result: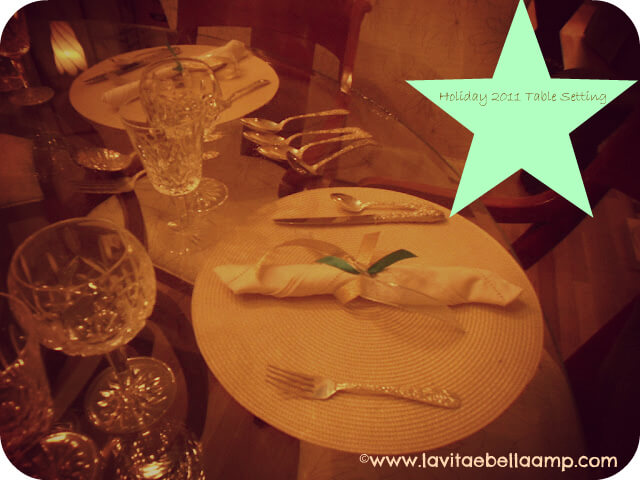 Fourth of July was no exception but it was a smaller occasion so I simplified things. Below is a step by step collage of how I put together the silverware wraps for our Fourth of July Table: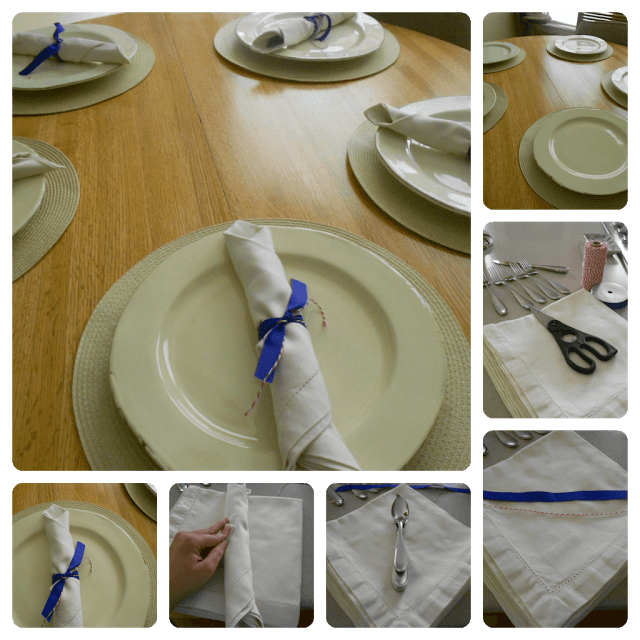 1: Gather supplies; for this wrap, I used red twine, royal blue satin ribbon, the flatware, scissors and the William Sonoma neutral napkins.
2: Measure your ribbon and twine. I gauge this by laying the napkin out and then measuring the ribbon and twine the same width as the napkin.
3. Stack your flatware in the middle of the napkin.
4. Fold the right side of the napkin over the flatware, and then roll to the left.
5. Tie the ribbon and twine around the wrap and let the remaining ribbon and twine hand off the side.
A pretty table does not have to be fancy and your extra effort will be appreciated by your guests!