I mentioned last week that I helped throw a
baby sprinkle
for one of my besties. Our theme was girly with pink, pink, and more pink! So, of course, to keep up with the theme, I filled my kitchen with pink desserts as well!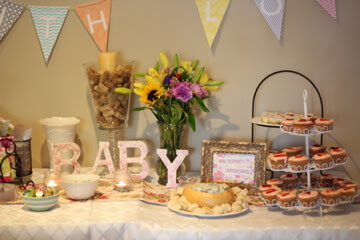 And, what would any party (and my kitchen) be without some Pinterest inspiration?! It all started with
this pin
. A good friend of mine had pinned these cupcakes months ago. Naturally, I re-pinned them to my 'Kitchen Inspiration' board and never gave them a second thought. That was, until I had the pleasure of tasting them when she made the for our Super Bowl party! They are simply heavenly. A perfect blend of creamy, homemade icing, and fresh cake filled with ripe strawberries!
It's no secret that these babies will now have a permanent home on my party/dessert go-to list! And, like I always say, they are too good not to share.
Strawberry Cupcake Recipe
Cake Ingredients
2 1/2 cups cake flour
1 tsp. baking soda
1/4 tsp. salt
1/2 cup unsalted butter (softened to room temperature)
1 1/2 cups sugar
2 eggs
1/3 cup buttermilk
1/4 cup oil
1 tsp. vanilla
2 cups chopped strawberries
Icing Ingredients
1/2 cup strawberries
8 oz. cream cheese (softened to room temperature)
1 1/2 sticks unsalted butter (softened to room temperature)
1 3/4 cups powdered sugar, sifted (make sure you have at least 2 cups here, as I found I needed to add some for consistency)
1/2 tsp. lemon juice
1 Tbsp. vanilla
Preheat oven to 350. Line your cupcake liners with paper liners (I made 24 cupcakes, but had enough for about 30-36).
Sift your flour, salt and baking soda into medium bowl and set aside. Using an electric mixer (I used my Kitchen Aid here), combine butter and sugar until well blended (consistency should be light and fluffy). Then, add your eggs one at a time and blend well. Next, add buttermilk, oil and vanilla and blend well.
Now, add your dry ingredient mixture and blend with mixer until combined. Then, add your strawberries and mix on low for a minute or so. Fill each cupcake liner about 3/4 of the way and bake for 20 minutes. When cakes are done, try the toothpick method to make sure the centers are cooked through. Cool cupcakes completely on a wire rack.
For the icing, puree your strawberries (I used a small food processor here). Strain berry puree through a mesh sieve to remove the seeds and set aside.
Next, combine your cream cheese and butter with your mixer until well blended (about 5 minutes). Add powdered sugar and blend until smooth. Then, add your lemon, vanilla and strawberry puree. Adjust the amount of berry puree you use in order to reach your desired consistency. If needed, add a bit more sifted powdered sugar to thicken the icing up!
Refrigerate the icing for 2-4 hours (if possible) before icing your cupcakes. Top each cupcake with full or sliced strawberry and serve!