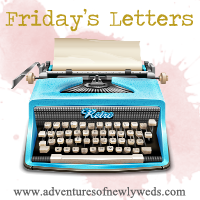 Happy Friday! You probably already know that I am out of town for the weekend, soaking up the sun, sipping on chilled glasses of wine, and enjoying quality time with my Mom and
sister
. But, I had so much fun trying out
Ashley's
'Friday's Letters' linkup two weeks ago, that I couldn't help but do it again. You can use both the text link or her button above to head on over and link up yourself!
Dear Emily (yes, of the Bachelorette),
While I think you're a perfectly nice girl, and can be adorable and fun, I was grossly disappointed when you gave my beloved Sean the boot this week. How could you get rid of him with those abs? That smile? At this point, if you don't pick Jef, I am not sure I can support you anymore.
Dear Target,
Oh, how I love thee. But seriously, I cannot leave you until I have cleaned my wallet out of all cash, and have put about $156.43 on my debit card. Why must you tempt me with all of your pretty home decor and summer garb? My husband is becoming a bit disgruntled with you, although he was thrilled that we were able to knock out our grocery shopping and snag a copy of the new Zack Brown Band album for $10 during our last visit. So, thanks for providing him with that glimmer of hope, because I don't want to go back on restriction from you!
Dear Kenny & Tim,
While I still don't have tickets for your 'Brothers of the Sun' tour stop in DC in a few weeks, I do have every intention of heading to FedEx for at least a fun day or tailgating. You won't mind if B and I listen from the parking lot, right?!
Dear Kip Moore,
I cannot, for the life of me, get enough of your new song 'Something 'Bout A Truck.' Both B and I are in love, and every time we hear it come on our local country radio station, we crank up the volume immediately. Also? You look pretty hot laying on the front of that pickup in this video, so thank you for that!
Have a great weekend!