I know I'm supposed to be on a blogging 'vacation' this week, but when Becky posted this linkup info last week, I thought it was such a fun idea, and wanted my readers to be able to get to know me a little better, especially if you're new around here!
I would love to find out more about some of you as well, so make sure to linkup on Becky's blog!
Questions
1. How long have you been blogging? And what got you started on blogging? Has your blog changed?
I started this blog back in
December of 2008
. Back when this little blog was called 'A Girl, Inspired, and B was just my boyfriend, I was relatively new to the 'real working girl' world, and I had no idea what a fun journey this would take me on!
I started blogging because I enjoyed reading the blogs that I had grown to love, and thought that I had something sort of fun and interesting to share with others out there. I also started blogging around the same time as my (now)
sister-in-law
, and one of my very
best friends
(who also happens to be guest blogging for me today, woot!). It was kind of our 'thing' even back then, and it has been so much fun seeing how each has changed and how so much has happened!
2. Did you go to college? If so where, and what did you study?

I went to James Madison University in Harrisonburg, VA. I refer to JMU as 'a little piece of heaven on earth.' Not only I meet my husband there, but I met some of my very best friends, ones that I now consider family, and it was four of the best years of my life to date.

I studied Technical Communications, which is basically just a fancy way of saying communication plus some web design.


3. Where have you traveled?

Honestly, my list of fabulous places I've traveled is rather short. I've been to Mexico, the Dominican, took a cruise to Belize and Costa Maya in college, but spent most of my traveling days as a kid at the beaches in NJ, North and South Carolina (Hilton Head is by far my favorite one), visiting Disney and family in Florida, and more recently, we've been spending as much time as possible at my in-laws place in Fenwick Island, DE. I've also been out to California a few times, mainly for work trips, so exciting I know!

As far as where I'd like to go? For starters, I am still banking on re-booking our anniversary trip to St. Lucia this year, and would also love to get to both Hawaii and Australia with B someday.


4. If you won the lottery, what would be the first thing you would buy?

I always jump the gun and think 'a $10 million beach front property,' but truth be told, I think I might run out and buy myself a Range Rover or something first!

5. What are your 3 biggest pet peeves?

Hmm, this is quite a revealing one, huh? I would have to say that a dirty kitchen and/or bathroom really bother me. I also hate laziness, to the point where middle of the day naps can get on my nerves. I am also a freak about having my bed made every day. It's a sickness.


6. What is your favorite movie?

Wow, this is a tough one. I would say that the top 4 movies that I will watch, without fail, every time they are on TV are The Notebook, Taken, Couples Retreat and Shooter. Ohhh la la, Mark Wahlberg!

7. What is your drink of choice; wine, beer, or liquor. Or Water, Soda, Tea?

I am not a liquor drinker. I have pretty much always been a beer girl, but in the last year or two, I have been drinking a lot more white wine and can devour a bottle of champagne, preferably Prosecco!

8. What is something you enjoy to do when you have me time?

I love some 'me' time, and typically, I will choose to spend it vegging out on the couch with a glass of wine and a cheesy Lifetime movie. That's just how I relax.

9.

If you could have a $10,000 shopping spree to one store, which store would it be?
More than likely, JCrew. Or Nordstrom!
10. Share with us an embarrassing moment of your past? Or present.

When I was a freshman in high school, I guess the senior girls thought I would be fun to pick on, so one of them stood up in the middle of the cafeteria at lunch and called out my name, then proceeded to show me her makeup bag and tell me that ' I should probably learn how to wear some.' Mortified is not even close to a strong enough word to describe that moment. Luckily, I had (and still have) great friends, so the shock wore off quickly. But, I don't really miss high school.

11. What day would you love to relive again?
Our wedding day, without a doubt. Second runner up would probably be the day I graduated from college. Those were good days.
12. If your life was turned into a movie... what actor would play you?
Hmm, great question. I have always loved Sandra Bullock and Reese Witherspoon, so either of them would be fabulous.
13. What are the jobs you had in high school/college/the early years?
In high school, I worked at a local pharmacy. That was probably my first 'real' job and I loved it. After that, I babysat for years until right after college when I got my first big girl job.
14. Show us a picture from high school or college.
Hahaha, well that was fun. Looking through old college pictures brought back lots of memories! Here goes nothing!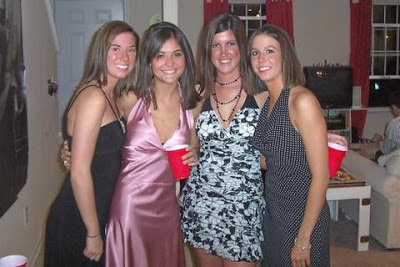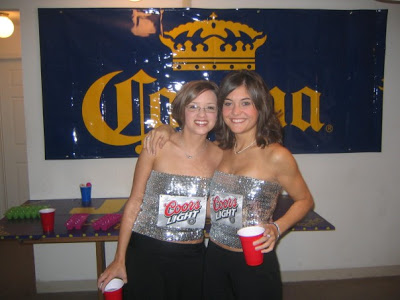 15. If you could travel anywhere in the world, all expenses paid, where would you go?

I think I'd go back to Australia with B (he studied there for 4 months on college) and stay for a month or two.

16. Show us the most current picture of you or you and your family.
This shot was taken on New Years Eve of this past year. My entire (immediate) family went to my parents place in Palm Beach, FL for a week. We had a blast, and pictured below is myself and B, both of my sisters and their boyfriends, and my brother :o)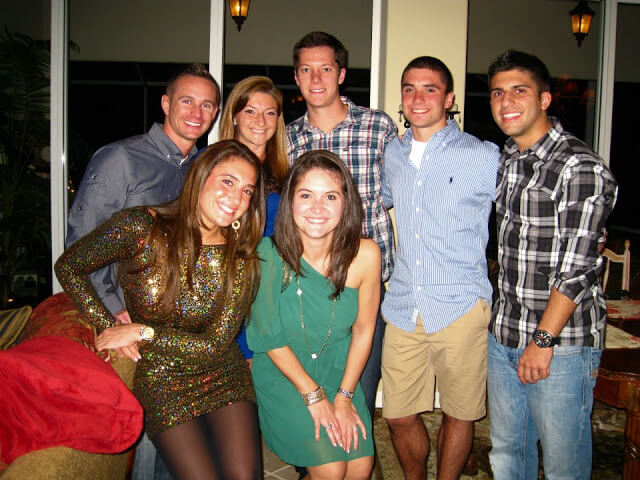 17. Where do you see your life 5 years from now?

Five years from now I'd love to have 2-3 kids and be moving into a new house that we built. Of course all of this means that B and I will be very busy over the next few years, but a girl can dream!