Britt was nice enough to ask me to guest post yesterday at her little slice of the internet, and I was so grateful for the opportunity! I love getting to know another group of readers.

It's officially November, which means I am busy scouring
Pinterest
for holiday decorating and DIY project ideas. I have been itching to break out to the Christmas decor since mid-October. I can barely contain my excitement for the holidays this year. Last year around this time, we had just moved into our new home and we had lots of renovation projects still on our list of immediate to-do's. This year, the immediate list is much shorter, and we've really started to settle into living here. This house is really starting to feel like home. On top of that, we are also hosting Christmas here with my family the weekend before Christmas this year. My excitement for this occasion deserves a post all its own, but I'll have to get to that next week.
In the spirit of being over-excited for Christmas already, I decided to dig into the archives and share my two favorite DIY Holiday Crafts with all of you.
---------------------------------------------------------------------------------------------------------------
I am sure that many of you have already seen a ton of DIY holiday ideas that you've wanted to try yourself, and I am no different! If you've already seen a "How-To" post about these projects, I apologize for the redundency, but these were just too cute not to share!
The

ornament wreath
I didn't snap many pictures of the framed wreath, so I'll just give you the details on the berry letter and ornament wreath.
Berry Letter
What You'll Need
1 10-12" wooden (or metal) letter
About 5-6 large sprigs of red berries
Glue gun and glue sticks
Burlap or gold ribbon of your choice
Begin by cutting all of the berries off of the sprigs. We cut ours into small bunches or thin lines of continuous berries. Once you have the berries prepared, begin gluing small sections of them down onto the letter. I started at the top and worked down one side at a time. Continuing gluing section until the entire letter is covered evenly. You may even want to trim a section of berries down to just 1-2 berries to fill a small hole.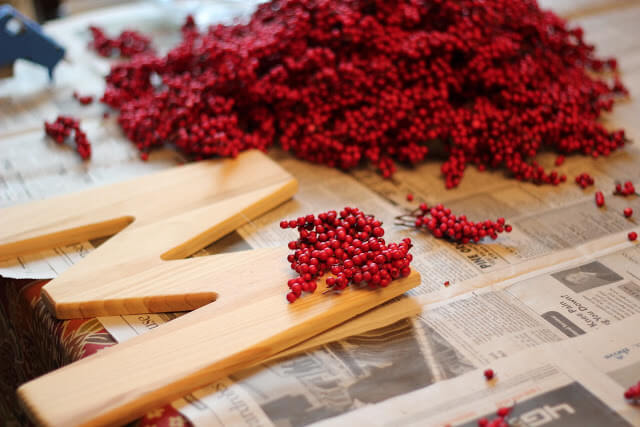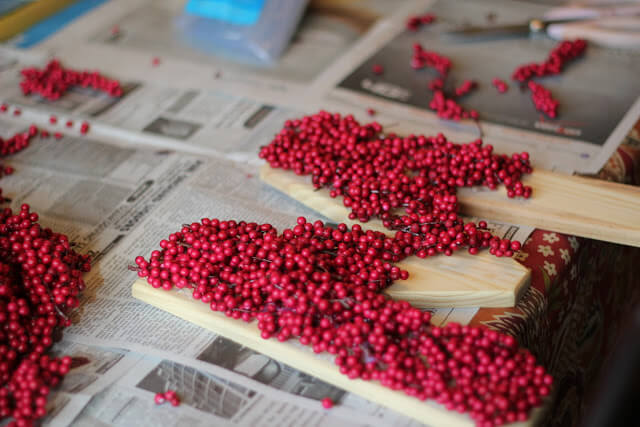 Because our last name begins with "M," it was a bit more challenging to attach the ribbon. I just cut two equal length pieces and attached one to each top section of the "M." Then, I created a simple bow to place that the top and hung it on a nail to dress up my dining room!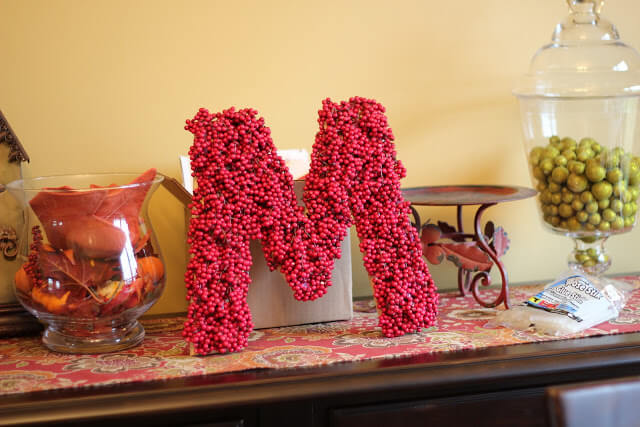 Once we completed the letters, we decided that we still had enough craftiness left to knock out the ornament wreaths! I must say, the ornament wreath was more enjoyable for me. It took much less time and allowed me to get a bit more creative.
Ornament Wreath
What You'll Need
One 10-12' styrofoam ring
Glue gun and glue sticks (lots!)
About 50-70 various sized ornaments
Red ribbon of your choice
Begin by gluing an even layer of your large sized ornaments along the outside of the foam ring in a pattern that you like. From there, I just kept gluing large and medium sized ornaments until I had only room enough left for the smallest ornaments we had. I went with a red and gold theme, and am thrilled with the way it turned out!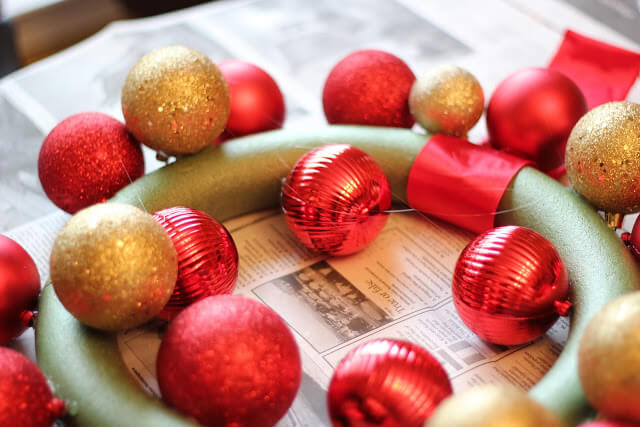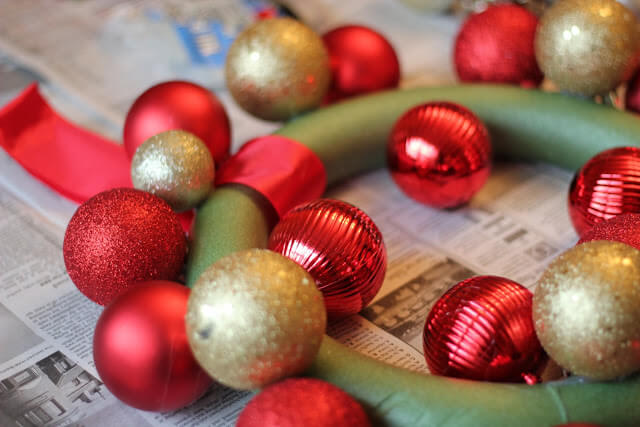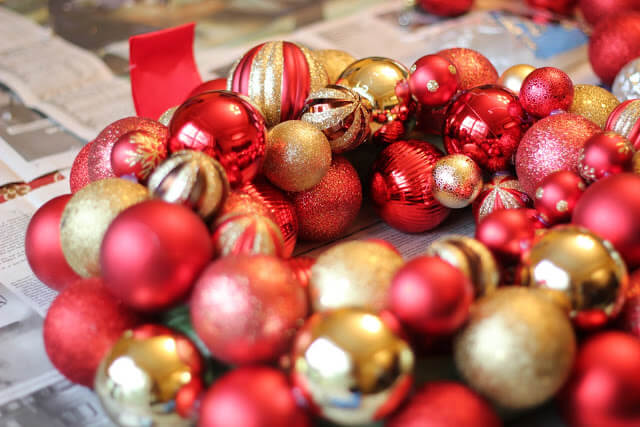 We ended up wrapping two separate strands of ribbon through the back of the wreath, and gluing them together at the top in order to use the ribbon as the hanger for the wreath. And, it shouldn't come as much of a surprise that I haven't completed mine with a bow yet. My Mom is all crafty like that, so I'm thinking about asking her to make one for me?!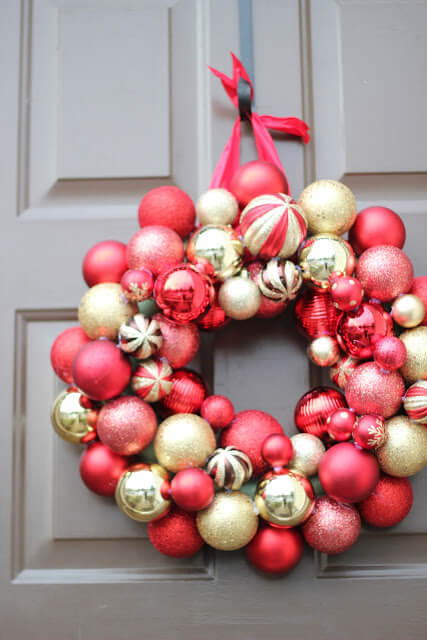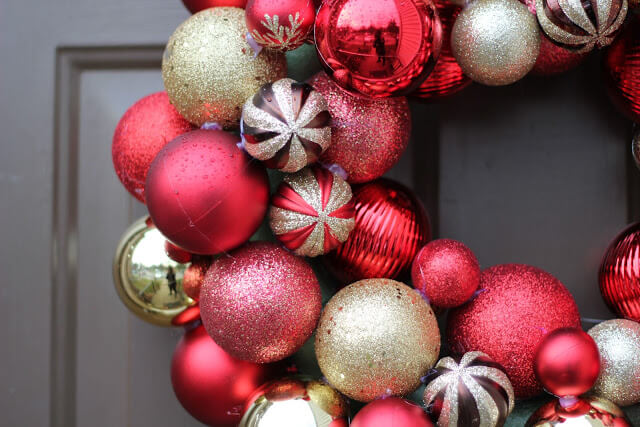 Excuse the excess glue you can see this close up, I never said I was a perfectionist with my crafts :o)
So, there you have it, a few adorable and pretty simple DIY holiday crafts that even I could do on my own!Happy decorating!