As many of you already know, we bought our first home back in October. A fixer-upper in a beautiful, suburban town south of Baltimore. We had always talked about making our first place 'our own' by purchasing a property that needed some TLC. Well, I don't really think I fully understood all that would go into the painstaking process, but, more on that later.
I have been promising before and after pictures of the new 'digs,' and since the kitchen is one of the only rooms that is completely finished, I figured we could start there. Sound good?!
Now, when I say "fixer-upper," I
really
mean it, but, luckily, the kitchen was the one room in the house that had been updated before we bought it. Below are some 'before' pics of the kitchen. I love the dark wood cabinets, and the stainless steel appliances, but that paint color? Just no.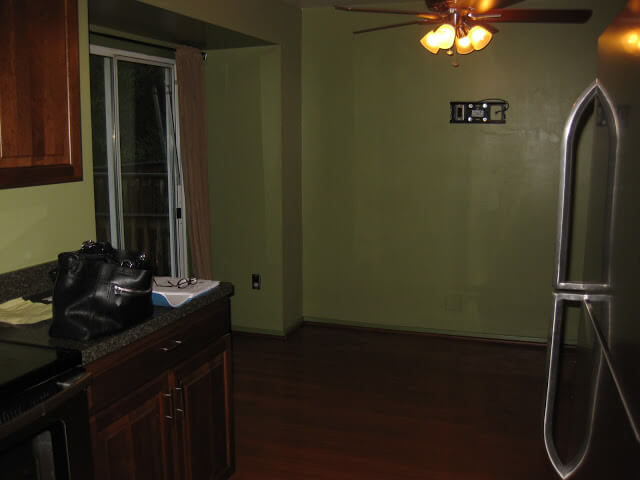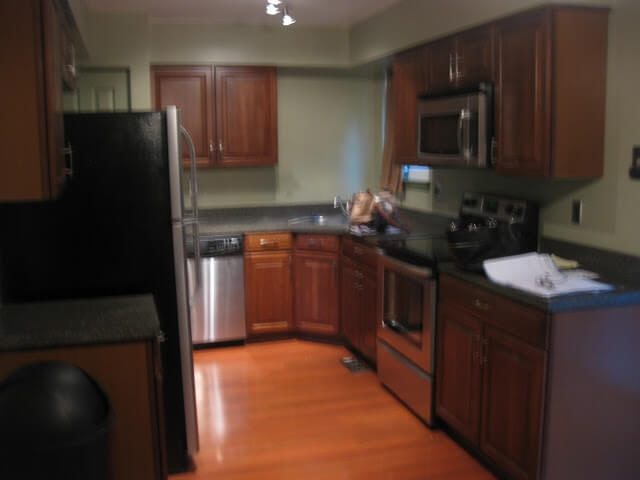 Sorry this one is blurry, must have been the night we closed!
We wanted matching hardwood floors throughout the main level that the kitchen is on, so we popped out all of the snap-in engineered hardwood, and saved it for reuse in another room.
The kitchen obviously needed to be totally repainted, but it also needed some plywood floor repair, a bunch of drywall work, the sliding glass door needed to be replaced, along with all of the outlets and switches in the room.
In the grand scheme of things, this room didn't take as many hours as some of the others, but it was still a process! I am thrilled with the way it turned out. I think it captures my decorating style well, and it's become a very spacious and functional kitchen/eating area for us.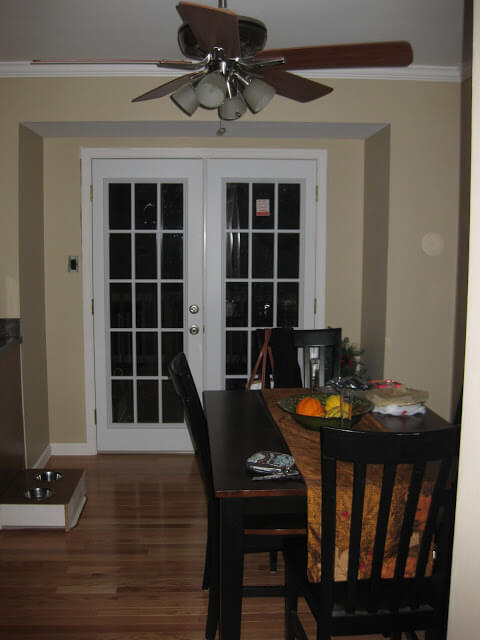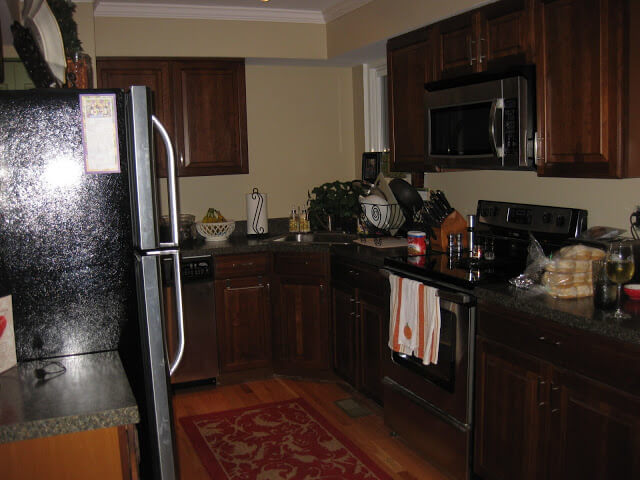 I wish the quality of these photos was better so you were able to see more detail, but that's what I get for taking 'after' pictures at night!
We painted the entire room in Benjamin Moore's
Shaker Beige
, and I loved the color so much, we ended using it throughout the entire kitchen/dining/living room level! I think it's the perfect combination of subtle and chic, and it goes with everything! We replaced the flooring with natural, hardwood and I just LOVE how they came out! Hardwood floors are definitely tougher to keep clean, especially when you have a lab in your house, but they're SO worth it! We also replaced the old, sliding glass door with a double hung, french door, and added crown molding to the room.
They say that 'love is in the details,' right? Now that we own our home, that statement has never been so true. I already had some items that I knew I would use in our new kitchen, but I also hit up Home Goods, Hobby Lobby and Pottery Barn for some of my 'wish list' items.
Pictured Above
HomeGoods kitchen accessories displayed on top of refidgerator (2010)
Red and White Checkered/Floral Hand Towels from Target (2012)
Fluer de Lis Hanging Wall Decor from Hobby Lobby (2011)
Pottery Barn Hanging Plate Rack (2005)
Williams Sonoma Holiday Collection Large Poinsettia Plate (2010)
I am very happy with the way our kitchen turned out, and it is really helping our new place begin to feel like 'HOME.'
Have you done a kitchen renovation you'd like to share?! I'm always looking for new ideas!!
Happy Wednesday, Friends!!