Recently, I have allowed myself to fall into the trap. What trap is that? The one where you no longer gets dressed up every day because your office is just down the hall from your bedroom. And, it's much easier to just throw on a hoodie and slippers than to come up with an entire outfit when you're just going to be working in there by yourself for a good chunk of the day.
Once I realized that I was letting myself slip into said pattern, I started to feel two things. Guilt and laziness. Neither of these are places I want to be, so after a little online shopping, I got my mojo back!
B must have noticed, because we have been on several dates since I've been making more of an effort. So, what am I wearing on these dates, you might wonder?
I have a few absolute staples in my wardrobe. These include black leggings, skinny jeans, long sweaters and riding boots. Sometimes, I spice things up, but most days, I throw on an interpretation of said staple items.
A cute button down and a comfy sweater are perfect for a trip to the winery, and wear heels at home with those cute new pants just because.
When putting this together, I learned a few things. Apparently, I wear a lot of blue, and I cannot get the 'strike a pose for your OOTD' thing down to save my life.
But, as you can see, I love to mix and match. Sometimes it's the same pair of pants dressed up one day, and down a few days later. Or it's the use of my black boots with every outfit I can come up with. But, I typically go for something cute and comfortable. Hence the reason that leggings and skinny jeans have become my best friends!
Another thing I've learned? A statement necklace or cute pair of dangly earrings can make all the difference when you're trying to find something to wear and you're sick of everything you have. Try stripes with patterns, or use a scarf to add a color pop to an outfit.
I also love black. I wear black almost every day. There is something about it that is flattering and chic. I love wearing a black top and colored pants. And the top right outfit (above): black leggings, stripes and a pumpkin cardi is one of my very favorites this season.
Where do I shop? I consider myself to be somewhat of a bargain shopper. Sure, there are a few things I will splurge on, but I love a good sale, coupon code, or $11 pair of stretch skinny jeans from Forever 21. I buy most of my clothing from Forever 21, Target, Old Navy and JCrew (always the outlet, of course!).
By far, my favorite thing to do is come up with new combinations of the clothes that I already have. This way, it keeps me from getting tired of my clothes, and trust me, I have a lot of them and no need to keep feeding my shopping addiction.
And then there are the nights when you let yourself order a new dress that was a recommendation from a friend, and you get all dolled up to go to a party. And then you wonder why you don't do this more often.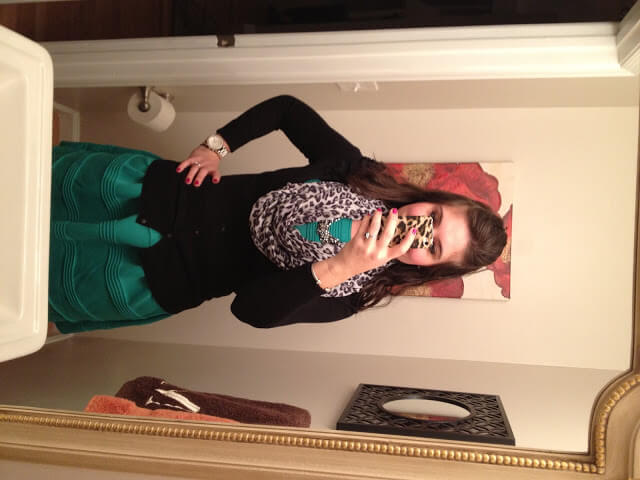 I smell a Christmas Eve outfit in the making!
What are your favorite go-to date night outfits?