I wasn't going to post yet another recipe today, but we made a new recipe for dinner last night. One that I originally found on Pinterest, so I thought what better than to link up its yummy-ness for 'Hey, That's Pin-tastic!'
I found this recipe while perusing Pinterest a few weeks ago. I quickly printed it out and added it to my stash, certain that I would be trying it out some time soon. I had another meal planned for last night, but thanks to hours of laziness and football yesterday, my husband recommended using the crockpot for dinner. And, who am I to turn that down? Toss everything in and let it sit for hours. It was exactly what I needed yesterday.
So, let me get to the good stuff. Chances are, you will already have all (or most) of the ingredients needed in your kitchen. Double score.
Crockpot Italian Chicken 'Stew' Recipe
What You'll Need:
3-4 boneless skinless chicken breasts
Italian Dressing (I used about 10-12 ounces of non-fat)
1/2 cup shredded Parmesan cheese
A few pinches of Italian Seasoning (I used McCormick's 'Perfect Pinch')
4-6 red potatoes cleaned and cut into wedges
4-5 carrots washed, peeled and cut into chunks
Begin by spraying your crockpot with cooking spray. Next, drizzle some of your dressing across the bottom of the pot. Then, place two of the chicken breasts into crockpot.
Cover your breasts with a layer of dressing, cheese and Italian seasoning. Then, place the other two breasts in next. Sprinkle with cheese.
Then, add your carrots. Add another layer of dressing and seasoning, and then top the mixture with your potatoes. I added one more layer of dressing, cheese and seasoning on top of the mixture for extra flavor.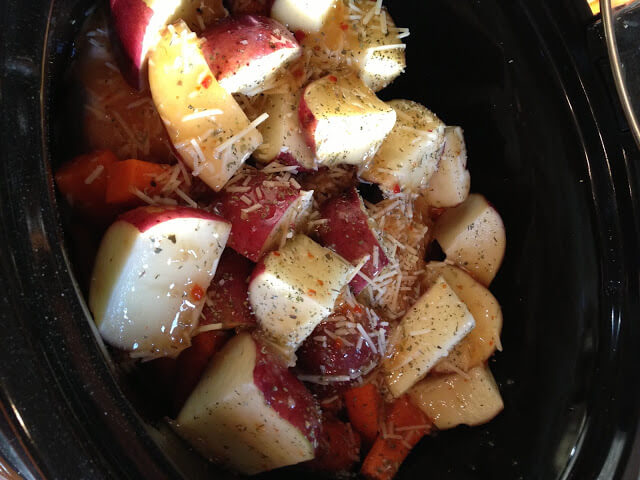 Cook on low for 6-8 hours, or on high for 3-4 hours. You may need to give it a little extra time to make sure the carrots and potatoes are soft enough. We cooked ours on high for close to 4 hours.
I was really happy with the tenderness of the chicken, and the overall flavor of this dish. It was the perfect meal for a fall Sunday, and it was husband approved!
Make sure to stop in over at this week's 'Hey, That's Pin-tastic!' for more great ideas and recipes!