If I've talked about it once, I've talked about it a thousand times. I am what you would call a sports 'fanatic.' That term might be a little broad for me, since I focus all of my energies towards and NFL, and more specifically, the NY Jets.
I can't remember the actual day that I became a Jets fan, but I can remember the shock from my family (a big group of NY Giants fans) when they learned about my new rebellious rooting ways.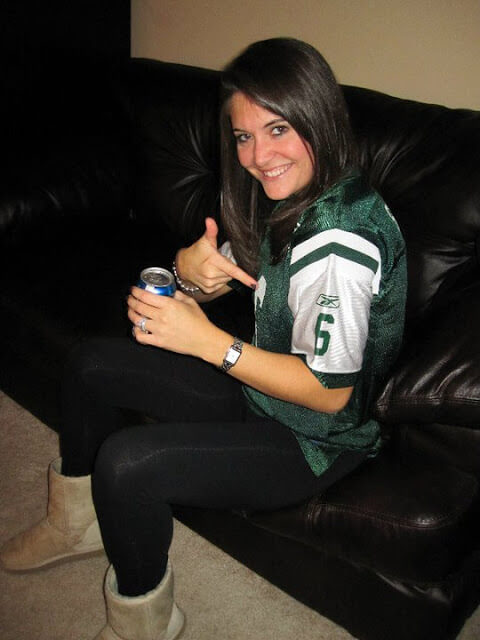 My enthusiasm for the team was only heightened four years ago when the Jets drafted Mark Sanchez from USC. You see, before Brett Favre's short stint with the Jets, we were not relevant. And, although I was a faithful fan, I was one of the only Jets fans I knew. Because, no one really cared about them.
These last four years have been exciting, sometimes painful to watch, and all around emotional for a fan such as myself. I'm sure you can believe that I have padded my collection of gear. I even ask for a new top or jersey for Christmas most some years.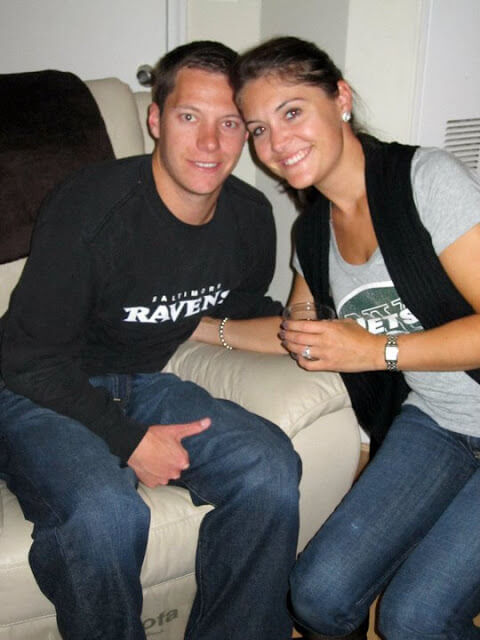 My love of football used to be one of the things my husband liked most about me. It was something we had in common and could spend every Sunday parked in front of the TV watching our favorite teams. But, as time has gone by, I have become insistent that we watch each and every game in its entirety. This poses a small problem being that we live in Maryland and the Jets are typically not on regular network TV here.
We have tried it all. Stopping in at one of our favorite local watering holes every week, getting together with friends for a primetime game, and there was even a time right after we bought our house, but before we had cable, that I listened to the game on ESPN New York Radio while painting the walls of my now home office.
Last week, we finally caved and ordered NFL RedZone. It's been a welcome change, and our checking account is already thanking us.
So, now I'm all set to get dressed up for and watch the games each week. But there are new items each year that I have my eye on, so when SportsFreak365.com offered me the opportunity to review a totally customized NFL calendar, I jumped at the chance to add one to my collection. Now I have a brand new calendar displaying my favorite players and team that I can hang in my kitchen.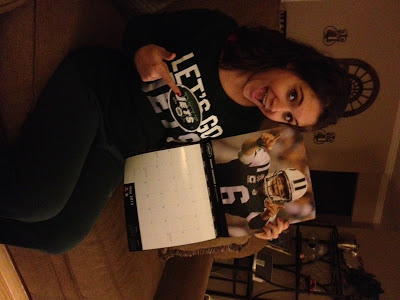 Please excuse the bad lighting. As you can tell, I was pretty excited when the package arrived on my doorstep! Full color, great quality photos of my favorite players, and a brand new 2013 calendar ready to kick off the new year that is quickly approaching.
What's even better?
SportsFreak365.com
has tons of sports and team related gift items for the sports fanatic in your life! It's the perfect way to start your holiday shopping, and you can do it right from the comfort of you own home!
You know I'll be scouring all of the Jets gift gear, and may even snag something for my Dad (against my better judgement, boo Dallas!)
So, make sure and check out all that
SportsFreak365.com has to offer, you will be happy that you did!
Showing off your team spirit has never been easier! Whatever team you root for and whatever sport they play, find the gear you need at SportsFreak365.com. Just in time for the holidays, you can get 30% off any purchase using the code "Clever30." And while you're there, be sure to enter to win $500 toward team gear in Ditka's SportsFreak of the Week Contest!
I was selected for participation in this campaign as a member of Clever Girls Collective.