It's been quite a while since I've talked about our little furbaby around here. And, I'm not even sure I ever shared the story of how Riley joined our family.
We rescued Riley when she was just 6 weeks old from a local rescue business that travels to states like Kentucky and Tennessee to save litters of puppies from kill shelters. She was the smallest and cutest little furball I've ever seen. We were told she was a Lab Mix, but that they weren't sure what she was mixed with. Over time, we've been able to take an educated guess, and think she's more than likely mixed with Boarder Collie. Hello, high energy mix!
This was taken the first week we had her home
We learned quickly that having a puppy is a lot like what we 'imagined' parenthood to be. We lost sleep, worried more, and hurried through showers to make sure that she wasn't shredding a slipper or peeing on the carpet.
I am so grateful that we adopted a puppy before we ever thought about kids. We have worked hard to share the responsibility, and B stepped up in a big way. I swear he took all of those middle of the night trips outside in the freezing cold because he knew it would be payback time when the one needing us in the middle of the night is a crying baby that wants to be fed.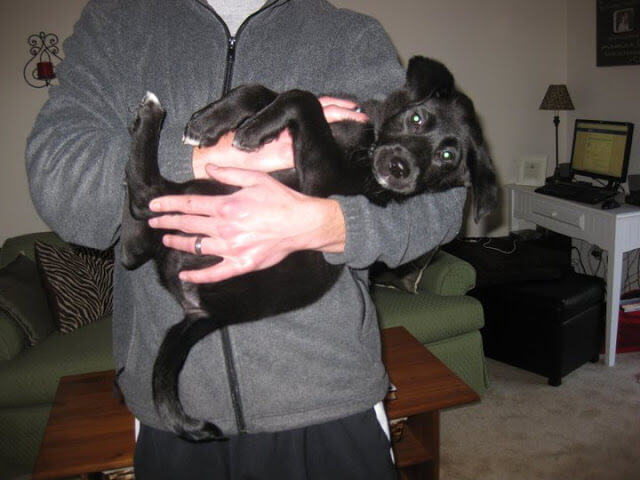 Riley will be two this December right before Christmas, and I think it's safe to say that we've really settled into our groove as a little family of 'three.'
Since the only kind of 'Momma' I am right now is to a 65-pound, energetic black lab mix puppy, I thought I would give some insight into what 'Puppyhood' is like for all of you that are thinking about rescuing or adopting a furry friend in the near future.
There are a few things that I don't think we could have survived without over the last 18 months, so if you're planning to get a puppy, you'll want to check out these fabulous items ...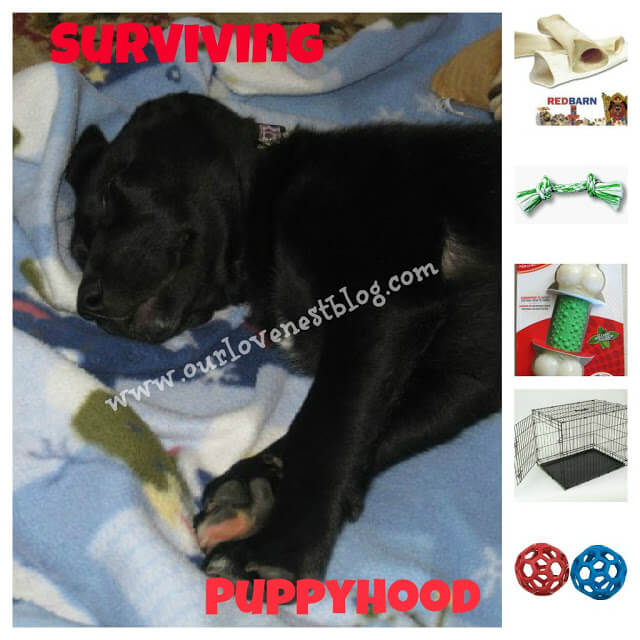 1) Riley is a chewer, so we have tried every kind of chew toy out there. Her favorites have been narrowed down to the 'Nylabone Double Action Chew' and any and all 'RedBarn White Bones.'
2) Rubber toys and ropes were great when she was a little puppy (pictured above). But, once she got older than 6-8 months, we limited her rubber toys because she tended to shred them up and eat some of the pieces. She also LOVES anything soft and stuffed, but again, we try to limit this to birthdays and holidays because she makes a huge mess, and those squeakers that they put in almost every dog toy give me anxiety.
3) I know not everyone subscribes to this method, but we crate trained Riley, and I am so thankful that we did. Her crate really became her little 'den' and she seems to love resting in there. We have been working to slowly wean her out of the crate, but she still has puppy tendencies (ahem, like chewing on the corners of Momma's rugs while we're out), so we err on the side of caution and keep her in there when we'll be out for several hours.
4) The fourth and final item that we simply could not have lived without, and is pictured above with Riley is a stack of old blankets. It should be blankets that you don't mind getting ripped, dirtied and chewed on. Riley loves her blankets. In fact, she still has one on the bed that we keep on the main level of the house, and every time I wash it and take it out of the dryer to give back to her, she lights up. It really is the sweetest thing.
Of course, we always have treats on hand, but we are not above bribing the dog to come back in the house or do tricks for cheese, baby carrots or pretzels.
Adding a furbaby into our family was definitely the right decision for us. And, if it takes longer than we expect to add children to our family, I'm not sure I'll be able to keep B from getting another puppy. Anyone have advice on that subject?!