Another holiday season means another reason to scour Pinterest for cute holiday card photo ideas. This year I wanted to keep it relatively simple. And, since we had Riley in last year's card, I wasn't sure if it was necessary to have her join us for pictures this year.
We decided to do our photo shoot sans puppy, but as soon as I got to actually designing our card with our favorite photo, it was obvious that something was missing.
My inspiration for this photo started with this pin.
How can you not instantly fall in love with that sweet puppy face all decked out in holiday spirit?! Even if it was a little forced.
I thought this would be the perfect way to feature Riley in our cards this year, so I grabbed a holiday wreath, a hand full of treats and got to it one Saturday afternoon.
Holiday Card Photo Idea: Puppy & Wreath
What You'll Need:
1 dog or puppy of your choice (I don't promise they will cooperate. Riley wasn't thrilled)
1 festive holiday wreath
A bunch of your pets favorite treats
A camera to snap as many pics as you can in 3 seconds
I started by removing Riley's collar, and then gave her a treat or 3 to get her relaxed and happy. Once she was obeying the 'sit' command, I quickly placed my wreath over her head so it hung gently around her neck.
Then I bribed her with a few more treats and started snapping away!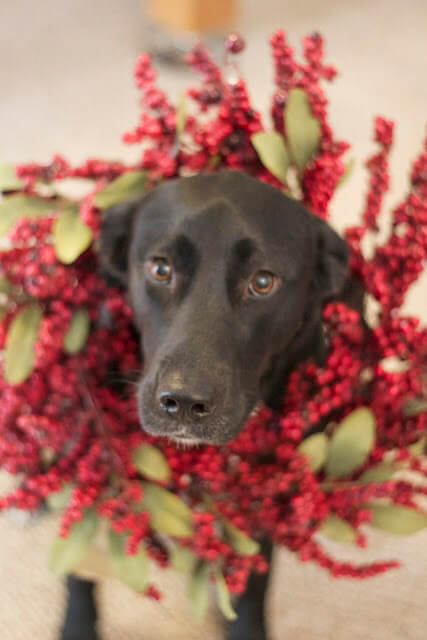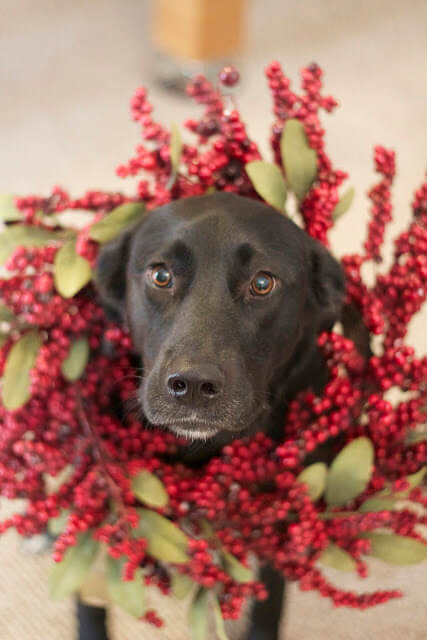 As you can probably tell, Riley was not as happy about this project as I was. Although the wreath bears a faint resemblance to a lion's mane, I love the way the pictures came out, and it was the perfect addition to this years' card!
So, if you're in the mood for a fun project, or your dog is looking to be mildly tortured for some extra attention, definitely give this a try!
Don't forget to check out the rest of this week's 'Pin-tastic'