Thanksgiving has always been a favorite holiday of mine. It comes in a close second behind my buddy, Christmas. Of course, one of the things I love the most about Thanksgiving is the food. Don't we all?
Growing up, we always spent Thanksgiving with family. Some years my Mom would spend countless hours in the kitchen preparing a scrumptious meal for a small army, and others we would whip up a few side dishes and head on over to my aunt's house for food, fellowship and football.
As the years continue to pass, our Thanksgiving traditions have changed. And, since I typically always spend Christmas with my family, we have started to spend many Thanksgiving's with B's family here in Maryland.
I've talked about blending traditions here before, and it still remains and elusive balancing act at my seasoned two years into marriage. What I do know for sure is that I want to start making traditions that are derived from our families, but have everything to do with the family that B and I are creating.
At the top of my list of 'wannabe traditions' is to begin hosting an annual holiday at our house. Since we are in a townhouse, we don't have the room to invite absolutely everyone, but we can start small and build from there. Speaking of which, I should probably start searching for a dining room table, yes?
Sometimes I daydream about the time in my life where I will be preparing my very first Thanksgiving meal, complete with a turkey and all the trimmings, for my loved ones. What are some of the trimmings I would include on the menu? I'd start with my two favorite holiday sides, and then toss in a homemade apple pie for good measure.
Garlic Mashed Potatoes
Ingredients
6-8 potatoes (I chose to use 6 red skinned potatoes this time, but large, regular potatoes work great)
4-5 cloves minced garlic
4-5 Tbsp Brummel & Brown spread
1/2 cup milk (add more if too thick)
Salt to taste
Begin by peeling potatoes (this can be messy if you like a little skin in yours, which I do). Next, cut into chunks and boil with a little salt.
Once potatoes are softened from boiling, use a hand masher to break them up. Then, add Brummel & Brown, milk and whip with mixer. You can always add more milk if they're too stiff or thick.
Creamy Mashed Turnips
Ingredients
1 bag cut, frozen turnips (this is the easy route, but I don't always have the time, or muscle, to cut that sucker by hand)
4-5 Tbsp Brummel & Brown
1/4 cup milk
Salt to taste
Boil turnips in a large pot with a little salt.
Once turnips are softened from boiling, use a hand masher to break them up. Then, add Brummel & Brown, milk and whip with mixer. You can always add more milk if they're too stiff or thick.
Homemade Baked Applie Pie (original recipe found here)
Ingredients
2 Pie crusts (I used store bought this time)
8 cups sliced, peeled baking apples - about 3 lbs.
2 Tbsp lemon juice
3/4 cup white sugar
1/4 cup brown sugar
1/4 cup flour
1 tsp ground cinnamon
1/4 tsp nutmeg
2 Tbsp Brummel & Brown spread
1 egg
1 Tbsp milk
Directions
In a large bowl, toss the sliced apples with lemon juice.
Then, combine sugars, flour, cinnamon and nutmeg; add to apples and toss well to coat. Next, fill pastry lined 9 inch pie pan with apple mixture. Dot with Brummel & Brown.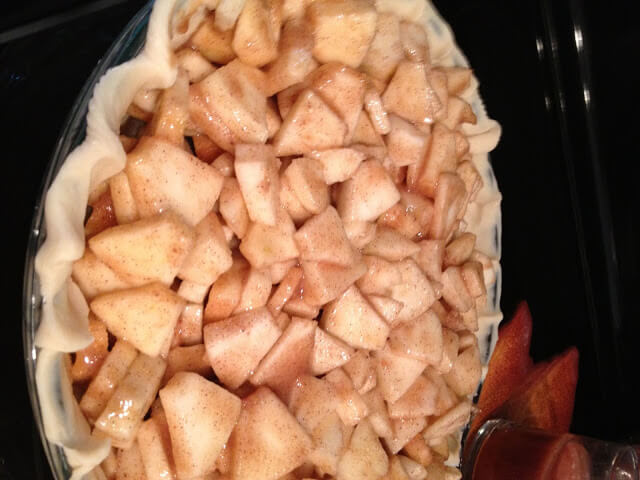 Place second crust on top of pie filling, cut slits in top of crust to vent. Or cut your second crust into strips and place on top of mixture in a crisscross pattern. Seal the edges of the crust with a fork or by hand.
Then, in a small bowl, beat the egg yolk and milk. Brush mixture over top crust.
Bake at 425 for 15 minutes. Reduce heat to 350 degrees F and bake 40-45 minutes more or until crust is golden and filling is bubbly.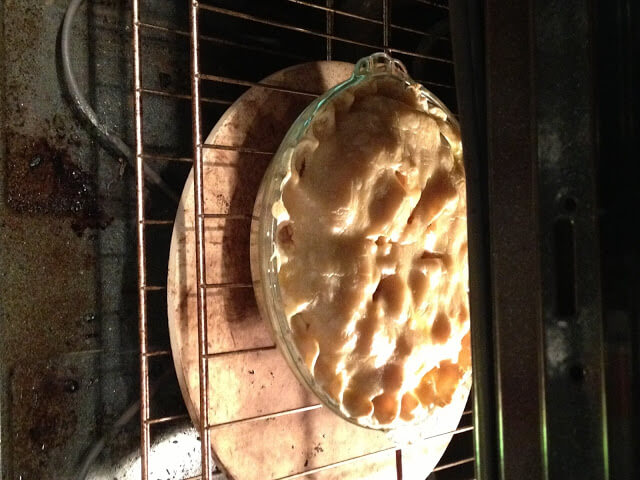 It's a good thing I decided to experiment with all of these recipes a little early this month, because I am salivating, and starving, from reading through all of this!
What are your favorite Thanksgiving recipes?
Thank you to Good to Know & Unilever Spreads for being a sponsor. I was selected for this opportunity as a member of Clever Girls Collective. All opinions expressed here are my own.