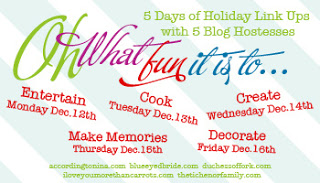 I am just loving all of the holiday cheer that is buzzing around the blog world lately. From linkups to guest posts, to pictures of people's homes decorated for Christmas, I just can't get enough!
Today, I think it goes without saying that I'm linking up with the sistah-in-love for Day 4 of the "Oh What Fun It Is To ..." week full of linkup parties!! I'm not sure if I've mentioned this before, but not only are AP and I married to brothers, we also grew up in close-to-neighboring towns in North Jersey. And, because we grew up in the same area, I couldn't help but smile and laugh when I read her linkup post today about her family traditions!
So, because I love a good tradition, and because Christmas was basically a sacred day growing up in my house, I couldn't help but share some of my most favorite traditions with all of you!
Christmas Eve Service: Every year in our house, we bundled up in the early evening hours of Christmas Eve and headed to our church for one of the three services. Because we have plans later that evening with family friends, we often attended the earliest service they offered, which usually meant it was the 'family' service, so we got to see all the elementary school kids perform that Christmas song they'd been learning in Sunday School for the past 4-6 weeks. I wouldn't have it any other way. I just love the glow of the advent candles and all of the Christmas music that are a part of that hour in our church. And, it's even more special each year because B and I were married in my home church, so it holds a special place in my heart.
Christmas Eve Family Party: Every year as far back as I can remember, we spent the post-church part of the evening with our close family friends. You know, the family friends that you are so close to that you call them "aunt, uncle, cousin" and feel like they're real family? It became our tradition long ago to spend Christmas Eve with this part of our 'family.' Each year we switch who hosts the party between three different places. And now, a tradition that started with two families, 12 people total, has grown to 5+ families with kids of all ages, couples that are newlyweds and ones that have been married for 35 years. Christmas Eve is one of my absolute favorite days of the year, and I haven't missed one yet. We mingle, eat yummy food, share stories, read the Christmas Story, and even sing "12 Days of Christmas" as a group. Yep, you read that right. It is such a special night, and I am so glad that B has become a part of a tradition that I love so much.
Santa's Little Helper: As a result of being the oldest of four children, it was only natural for me to become my Mom's/Santa's little helper. I have been helping my Mom place all of the gifts under the tree and pack the stockings since I was about 15. Some might think that takes the surprise out of Christmas morning, but I love setting everything up, and love seeing everyone else's face when they finally see it even more!
And, just like AP, my family has a pretty strict tradition of stay-at-home-in-your-PJs-all-day on Christmas day. Except for my Mom, she somehow always ended up fully dressed and makeup on in front of the video camera each year. I would say that this part of our tradition ranks right up there with Christmas Eve as one of my absolute favorite parts of my childhood. Just staying home with my immediate family, opening gifts all day, relaxing in front of a fire, playing with all of our new gifts, and enjoying a yummy Christmas dinner complete with homemade filet mignon and all the trimmings is perfection for me.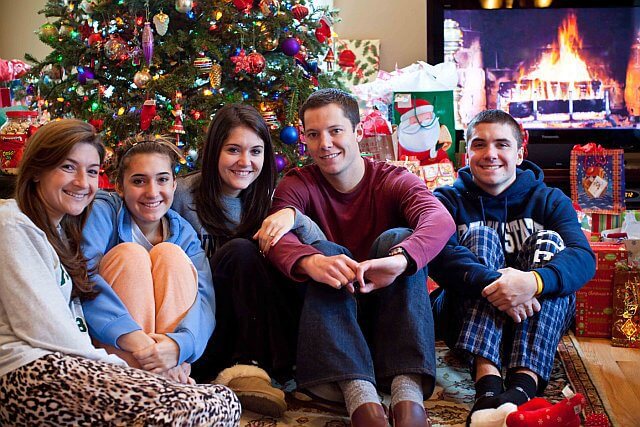 It's hard to describe how a certain holiday makes you feel, and how all of the little traditions and quirks of your family make Christmas day the day that you look forward to most each year. Especially when you're describing it to someone who didn't grow up in your family, and who has traditions of their own. Figuring out how to spend Christmas once you're married can be a challenge; it is still a topic of interest in our house each year. But for now, while we're a family of two (plus the pup!), I am thrilled to be able to share Christmas with B and my family, and to show him why it's my favorite holiday of the year, and why the things that my family does to make the day special are so important to me. What will we do once we have kids? Well, we have a few ideas, but nothing is fully negotiated ... yet. It's all about making new traditions now, right?
Thanks to AP, Erin, Nina, Meredith and Molly for hosting this week of linkups - it sure has been fun so far!!
What are your favorite Christmas traditions??