Happy Friday, Ladies! The days have totally blended together this week, so I was excited when I remembered it was Friday again! Not only is today Friday, but B has an off-site meeting to attend today, instead of his normal daily routine, so he got to stay home extra late with us this morning! Family mornings at home are my favorite.
And, speaking of that little family of mine, there is a certain furry member who hasn't gotten so much blog love lately, you know, since buying a house and becoming "real" adults has taken over our lives.
What is Riley up to these days? Well, she's just 8 days away from her 1st birthday, and absolutely loving all of the space she now has in her new home! She's still keeping us busy and on our toes, and we're loving her more each day. OK, maybe not as much at 5:30 AM when she's whining for us to wake up and feed her, but you get the point. She is definitely doing her job of training us to be parents to humans ... someday.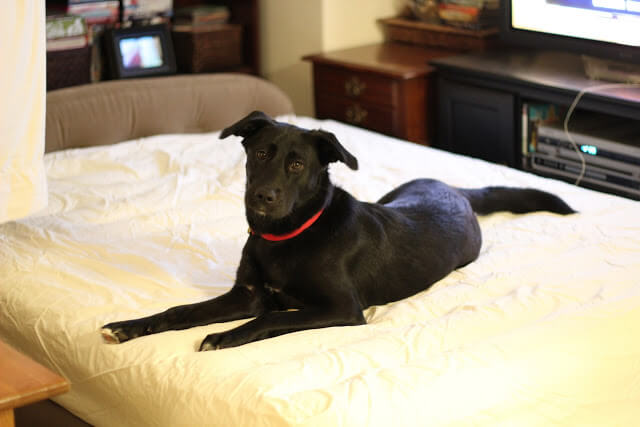 Here is the princess in all her glory. B and I gave up our bed and crashed on the air mattress the weekend that my parents were in town to help us move out of our apartment, and Riley didn't waste a minute before she perched up there in her comfy little nook. Oh, the joys of puppyhood!
I hope you all have something fun planned for this weekend! Two of my besties and I are hosting a ladies holiday brunch on Sunday morning, and I'm so excited to see it all come together! I will have to snap some pics and make sure to share some of the adorable ideas we came up with next week!