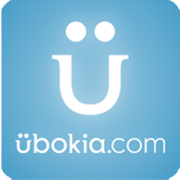 The way I shop my myself, and for my home has changed so much over the last two years. All of the things that I used to make an extra trip out for, can now be found online and shipped directly to me. And if I can get free shipping? Sign me up.
Online shopping has revolutionized the way that women shop for themselves, their families and their homes. Enter
Ubokia
.
Imagine remembering that thing you've been meaning to buy, or the one thing you've really been 'wanting,' and being able to find it on one of your favorite blogs?
Buying through a blog marketplace means you are connecting with other like-minded people - making it easier to find what you want and in general your interactions are more pleasant than something like Craigslist.
Want to know more? According to the fine folks at Ubokia, 'Ubokia is one of the Internet's fastest growing Social Commerce communities. We have developed a platform that connects buyers and sellers together. We are now offering a fully functioning version of our marketplace as a plugin for blogs called Ubokia Everywhere. This plugin allows your readers to buy and sell with each other – without ever leaving your blog. Think of it as a mini-Craigslist - but way cooler - just for your readers.
With Ubokia, you can list, search for, and buy the items that you're looking for, and do this with other women who you already interact with! Ubokia is easier for buyers because all they have to do is post a want and let sellers come to them. No more searching! Plus, Ubokia is easier for sellers because they don't have to wait to potential buyers to view their products. They can immediately connect with buyers. And, With uTrust, Ubokia is the safest way to buy online.
Interested in signing up, or just want to know some more? Visit
Ubokia
today, and get all of your questions answered. You can also use
this link
to join via my network!

**I was compensated for this post by the SITS Girls and Ubokia. All opinions expressed here are solely my own.