Now that summer is more than halfway gone (hello, Fall!), I feel like I have hit somewhat of a rut in the creativity department in our kitchen. I am so excited to get back to soups, stews, and weekly crock pot meals, but I know that there are still a few hot weeks left that I need to fill with summer appropriate meals.
I picked up a pound of raw shrimp a few weeks ago during one of my many Target trips, and wasn't sure yet what I would use it for. Then, while meal planning last week, I remembered I had said shrimp in the freezer, and took to Google to try and find the perfect, simple shrimp recipe.
I came across many recipes for 'Shrimp Scampi' and, since this was a meal I had yet to tackle, I decided that this past weekend was the perfect time to try it. So, here is my take on 'Shrimp Scampi' loosely adapted from
Tasty Kitchen
.
Shrimp Scampi with a Veggie Twist
What You'll Need
3 Tbsp. butter
2 Tbsp. Olive Oil
1/2 Medium onion, chopped
4 cloves garlic, minced
1/2 cup white wine (I use dry cooking wine)
2 Tbsp. lemon juice
2-4 dashes of Hot Sauce (I went light here)
Salt & pepper to taste
1/2 cup grated parmesan cheese
Parsley (fresh or dry) to taste
1lb. large, raw shrimp
8oz. Pasta (your choice - I used linguine)
1 bunch fresh asparagus
2 cups steamed spinach
Begin by boiling water for pasta. Have pasta ready to add.
Heat olive oil and butter in a large skillet over medium heat. Add onions and garlic and cook for 3-5 minutes, or until onions are cooked through. Then, add shrimp, stir and allow to cook for a few minutes.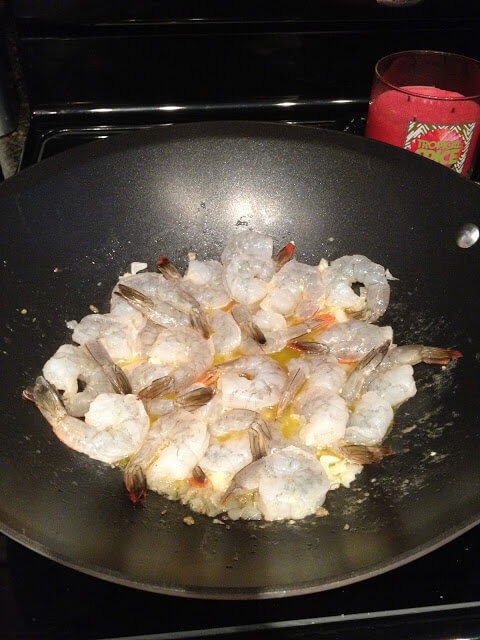 Next, add lemon juice, wine, salt & pepper and hot sauce. Stir everything together and reduce heat to low.
Meanwhile, either sautee spinach in a large pan with olive oil, or add olive oil and spinach to large mixing bowl and microwave for 2 minutes. Then, sautee asparagus spears for a few minutes until softened.
Then, toss your pasta into shrimp and sauce mixture. Add parsley and parmesan cheese and mix through.
Finish by adding the spinach and asparagus and mix well.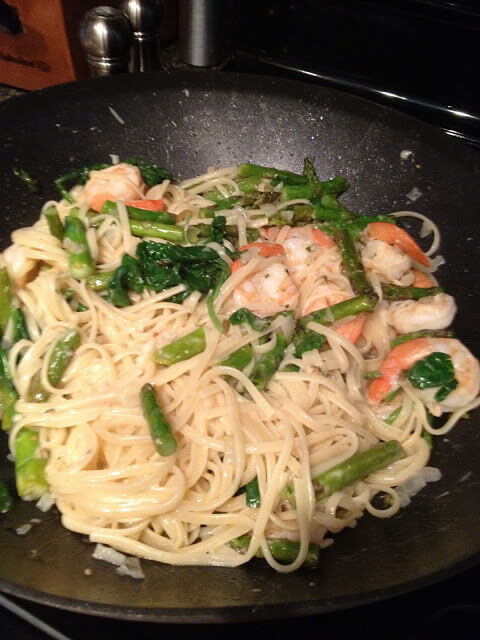 Give your mixture one last toss and then serve hot with your favorite glass of white wine! ENJOY!