Many of you may not know that I grew up with two sisters and a brother. There was a lot of estrogen in our house. And, lots of talking. Always. B, on the other hand, is one of three boys, so his life was just the opposite.
When you blend two people like that, you're bound to find some difference in preference. Am I right?
The other thing I should mention is that we always watched TV in our house growing up. Unless we were doing homework or eating dinner together as a family, you would more than likely find a TV on in at least one room in our house. Over the years, vegging out while watching an episode of Friends (that I had already seen approximately 12 times, might I add) became the way I relaxed.
From what I've been able to gather about B, they weren't allowed many TV viewing hours during the week in his house. They took to reading a book or playing basketball or lacrosse outside instead.
Then one day, these two different people got married, bought a house, and decided that one TV was enough for them to share in their new home.
Boy, has that proven to be a challenge.
While B and I both love watching NFL football and movies, and hardly ever skip an episode of Modern Family or Cake Boss, that is pretty much where our similarities in this area end.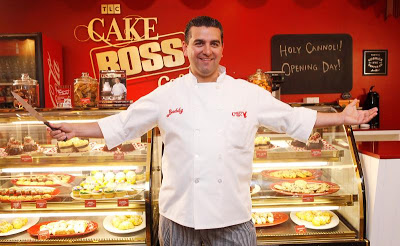 We have had countless 'compromising sessions' over whether to watch the rest of Restaurant Impossible, or switch over the this week's episode of Bachelor Pad.
You see, I am a huge ABC fan. I mean, huge. I watch pretty much every prime time TV show they air. And, of course, there's Bravo. B hangs out more in the area of HGTV and/or The Food Network. Our DVR has been a godsend, but then there are always the nights where I set two programs to record simultaneously, which is B's mind is an absolute no-no.
So, what do we do about this difference in preference in our house? Set time limits, narrow down my viewing list, buy another TV?! Does anyone else have this problem? I love relaxing on the couch with my husband, but this girl also loves her shows!