A few weeks ago, while I was reading
Jennifer's blog
, I came across her post about the
date jar
that she had made for her and her husband. As soon as I laid eyes on this DIY project, I knew that I had to make one for us.
You see, I am such a believer (and sometimes, a stickler for) in date nights. I'd love to do a date night every week, but it ends up being more like once every other, or every third week, in our house. Our biggest challenge is always coming up with ideas. Ideas he likes, ideas I like, and ones that we'll both really enjoy.
The 'Date Jar' allows you both to spend time in advance thinking of different ideas that both you and your spouse will enjoy, so when the opportunity presents itself for a spontaneous date night, most of the work is already done! This is an absolute win win situation in our house.
So, I gathered up my supplies and got to it!
DIY 'Date Night Jar'
What You'll Need
1 Mason Jar (I used a 16 oz. because I already had one)
20-30 popsicle sticks (I bought sticks that were already multi-colored, and came in a pack of about 100)
1 paint marker in the color of your choice
'Date Night' ideas from both you & your spouse
Ribbon in the color/pattern of your choice (this is optional; I added it to dress up our jar a bit!)
We started by each coming up with 10-15 ideas one Sunday afternoon when we were sitting at home. We each did this separately, and it was a welcome surprise when I realized that we hadn't doubled any ideas!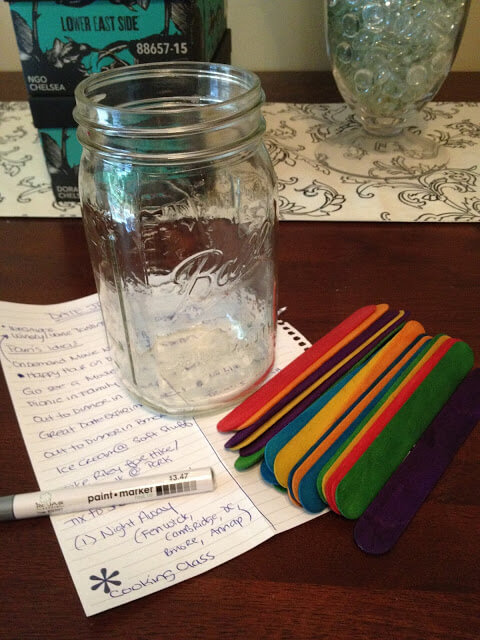 Once we had our list together, and I gathered up all of my supplies, I began bringing our ideas to 'life' on each of the colored sticks.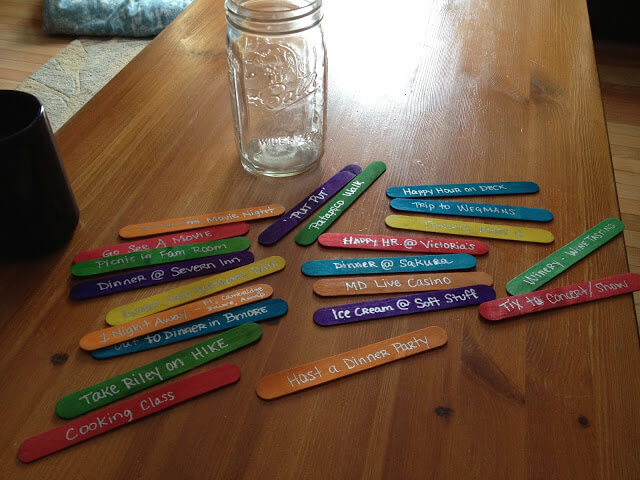 I am actually thrilled with the colored popsicle sticks; I think it dresses the whole thing up and just makes it more fun.
Once I had all of our ideas written out, I simply popped the sticks into the jar.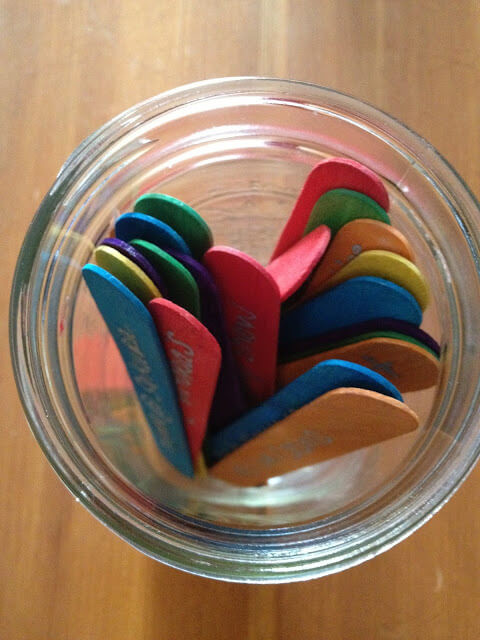 I finished this project by adding some colorful ribbon to the top of the jar, and once I did, I was so excited about how cute it came out!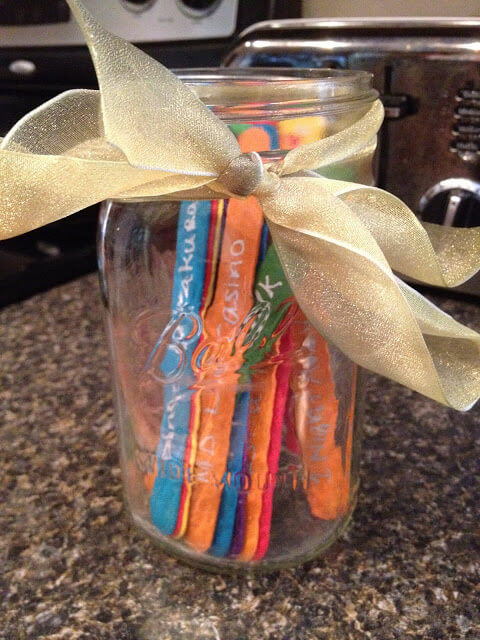 Wondering what some of our ideas were? Here are just a few:
Hiking at a local park with Riley
Happy Hour on the deck
Dinner out on the water in Annapolis
Signing up for a cooking class
One night away (somewhere within 2 hours)
I definitely recommend this idea for any couple that loves a good date night, but is too busy to try and come up with new ideas each week or month. This way, you can just choose a night of the week, pick a date and be on your way! Obviously, some of these dates require a bit more planning than others, but just the fact that the ideas are all there makes me happy.
I'm sure that we will begin to remove the ones that are used, and add new ideas as time goes by, but this is a fabulous place to start!