It's no secret that I love a good collection of accessories. Over the last year or two, I have slowly accumulated what I feel is a fun and eclectic group of stylish accessories, including both classic and trendy pieces that are great with almost any outfit. And, since I am nine months preggo and not feeling very 'cute' or 'sexy' these days, sometimes adding a fun necklace or pair of earrings to an otherwise comfy, cotton outfit can make me feel like I at least made an effort that day.
Lately, I have been borderline stalking Molly's new site, Molly Suzanne, and trying to narrow down the long list of items I want to add to my collection. With all of the baby clothes I've purchased lately, Momma can only buy herself a few things here and there, and spacing out the purchases is key.
So, when Molly asked me to review one of my absolute favorite necklaces from her site, I jumped at the chance as quickly as a pregnant girl with a watermelon belly can jump for anything.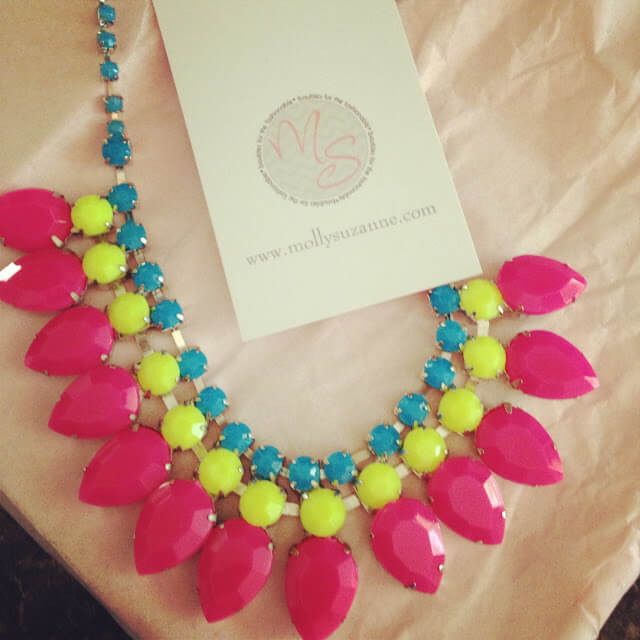 How gorgeous is this necklace? I love all things neon right now, and I don't care if it's trendy or not. It pairs perfectly with a maxi, or just jeans and a tank! Just the right pop of color for many outfits, and my favorite part is that you can dress it up or down, depending on your mood or occasion.
Molly has put together a shop full of fabulous accessories and adorable scarves, belts and even purses. And the scarves are amazing, like this chevron infinity that I plan to add to my fall collection soon!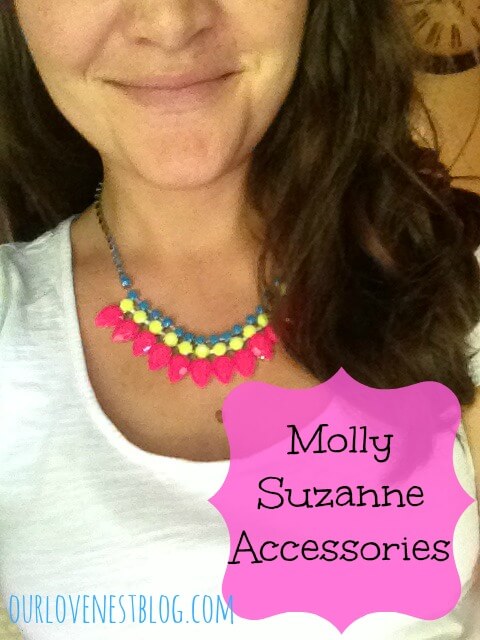 If you haven't shopped with Molly yet, you are truly missing out on her unique style and ability to choose her pieces. Whether you're looking for the perfect accessory for a night out, gifts for your girlfriends or bridesmaids, or just something you can wear every day, you can find it all in her shop, and at great prices!
Shop between now and Sunday, July 21st and use code LOVENEST for 20% off your order!!
You can also find Molly Suzanne on Facebook, Twitter and Instagram!