Wow. These have been the fastest nine months of my life. OK, well minus the last week or so. My belly is huge, my hands and feet a starting to get a little puffy, and my hips are sore all.the.time.
We had my parents, my brother and his girlfriend here for the holiday weekend. It was so nice to spend some time with them relaxing, shopping, eating and some more relaxing. But, I grossly underestimated how exhausted I would be after hosting guests for the weekend. As soon as they left, B and I spent a little time cleaning the house, and then I actually napped on the sofa that afternoon, something I rarely ever do, but it was necessary.
So many people keep telling me they think Gavin is coming early. He looks lower all the time, my Braxton Hicks are getting stronger and more frequent, and my Mom, well she just thinks I 'look ready.' Ha.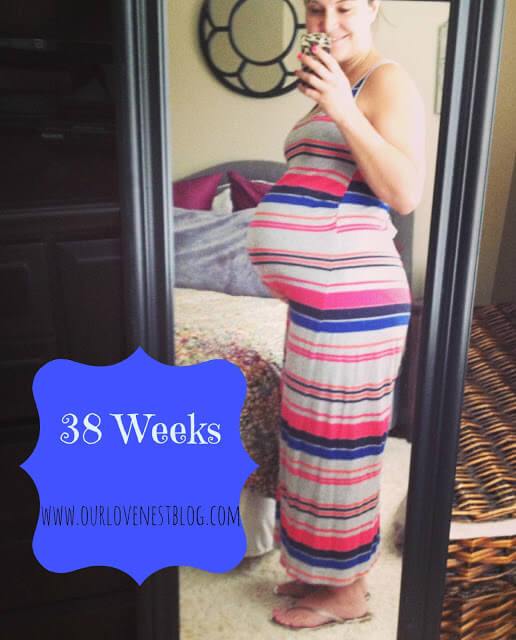 How far along are you? 38 weeks as of 7/9/13

How I'm feeling: Feeling huge. My belly is heavy and low so I constantly feel like I have a bowling ball sitting in my lap. My hips are sore a lot and it's really tough for me to get comfortable in any position.

Total weight gain: 26-28ish pounds?

How big is baby? Gavin is estimated (by my app) to be the 'size of a watermelon.' Gulp.

Maternity clothes: Ugh. Right now, the less clothing the better. I hate anything that is the slightest bit tight around my waist.

Stretch marks? Woof.

Sleep: Definitely not getting much sleep these days. I'm sure it is a combination of my body preparing me, and my anxious anticipation for Gavin's arrival.

Best moment this week

:

Spending time with my family, and realizing that Gavin could come any day now!

Movement: Rolling, stretching and jabbing with the best of 'em. Getting more tweaks and pains and my Braxton Hicks are picking up in frequency and strength.

Labor signs: Like I mentioned above, the Braxton Hicks are getting stronger and more frequent, pelvic pressure is getting stronger as well. I am still getting sharp pains from time to time, and I have my internal exam tomorrow at the doctor, so we'll see if anything is happening!


What I miss: Being able to get comfortable enough to get some decent rest!


What I'm looking forward to: We'll be attending a short tour of the maternity ward at the hospital where we'll be delivering tonight, and tomorrow is our 38 week checkup. Both getting us closer to this little guy!

Milestone: I think reaching 38 weeks is a milestone in itself. Now we wait!