I have talked about how my fashion, tastes, and go-to daily attire have already started to change drastically over the last few months as my ever-expanding baby belly continues to grow. Let's face it, when you work out of your home office every day, throwing on leggings and a maternity top feels like 'getting dressed' enough to me.
I have also begun to think about what some of the items that I may find myself turning to post-delivery will be. With a recovering body and little to no sleep, this Momma is going to need some comfy threads to get her through the days and nights. And, it would be an added bonus if I could also wear said threads out to the grocery store, Target, or the bank, as these are the places I find myself frequenting the most.
As many of you know, I started working with Crystal of Shop Crystal Faye Back in February, and the Monogrammed Tumbler was the first item I reviewed. The popularity of this fashionable accessory was instant, and I knew that everyone just adored the option of adding your own monogram to the product.
So, when perusing Crystal's site for the month of March, I knew as soon as I laid eyes on Monogrammed Yoga Pants that they would be the perfect addition to my 'Mommy-to-be wardrobe' as well as another popular seller that I am sure each of you would love the chance to win!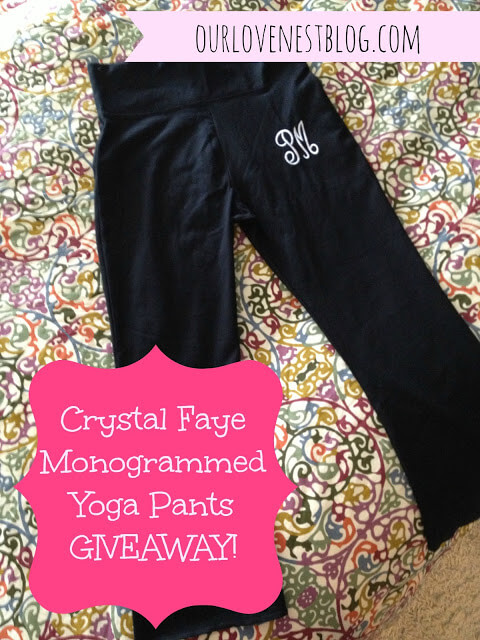 My yoga pants arrived in the mail last week, and I was immediately swooning over them. The fabric is soft and comfortable, and the monogram adds just to right amount of personalization to this wardrobe staple. I have already packed them up for our road rip to Atlanta this weekend, and plan to wear them all morning while we get ready and 'beautified' for my sister's big day.
Whether you're a gym rat, a Mom-on-the-run, or just like to have affordable, comfortable and cute options in your wardrobe, everyone could use a pair of these pants!
I am happy to announce that I am hosting another giveaway where one lucky reader will be chosen to receive their very own Monogrammed Yoga Pants from Crystal Faye FREE! Simply use the Rafflecopter widget below to enter. This giveaway will close on Friday, April 12th, so get your entries in!

And, if you're anything like me, and you don't consider your week complete without at least a little online browsing, check out Crystal's shop, and don't forget to use code: NEST10 for 10% off any order!