A few weeks back, I mentioned that I had finally bought my first Annie Sloan Chalk Paint with the intention to use it to refinish a dresser for our bedroom. Another 'pre-Baby G' project that B and I were excited to finish.
Let me start by saying that I was a bit skeptical that one quart of this pretty paint could cover more than one piece of furniture, despite the fact that I had heard countless amazing things about it. Both of the pieces that we decided to paint were originally a medium-dark cherry colored oak with brass hardware. There was nothing 'wrong' with their of them, but they were dated, and needed an update, in my opinion. Plus, we were desperate for some more drawer space in our bedroom, so taking this old dresser out of storage and giving it a facelift was the perfect solution.
For the life of me, I could not find a picture of what the dresser used to look like, so the 'before and after' won't be as striking, but trust me, the paint made a huge difference.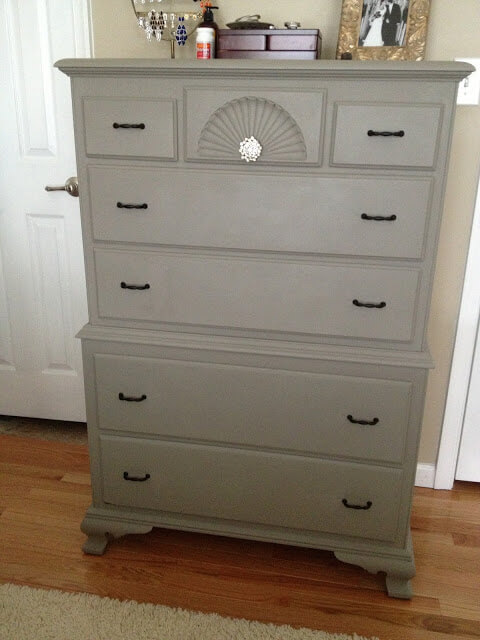 I purchased our Chalk Paint at a local retailer that carries it. We decided to use the color 'French Linen' because it was a nice, soft grey, but still made a statement.
B started by lightly sanding down the entire dresser from top to bottom including each of the drawers. He then wiped down the whole piece with a damp rag.
Once the dresser was clean and sanded, he applied one, even coat of the paint and then allowed it to dry for an hour or two. The second coat was light and went on nicely to even out the color.
Be sure to purchase the Annie Sloan Clear Soft Wax (we just bought the small tub) when you are using her paint. Once the dresser was completely dry, B used a rag to apply the wax, then after about 30 minutes or so, he used another, clean rag to buff the wax off. This allows the furniture to have a smoother finish and will also allow you to clean it without messing up the paint in the future.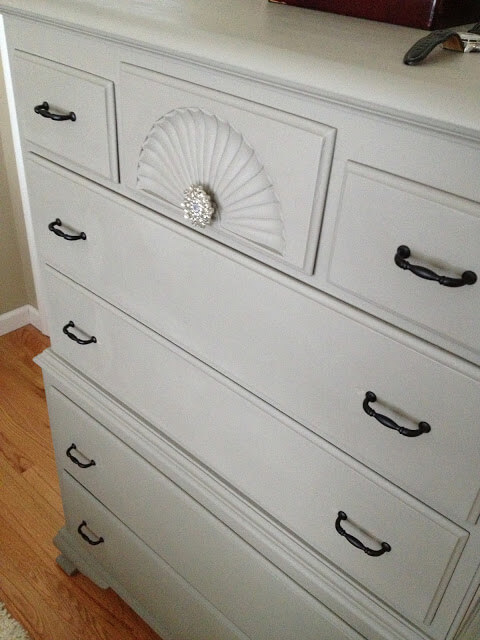 I purchased the new hardware from Home Depot (black handles) and the fancy knob from Anthropologie to add a little sparkle.
I was a bit overwhelmed when we originally took on this project, but it ended up being super easy and painless, and B even surprised me after my trip by using the extra paint to refinish the filing cabinet in my office!
So, if you're looking to refinish some old furniture, I highly recommend purchasing Chalk Paint to do the job. It's a bit pricey, but in my opinion, well worth every cent!
Furniture Refinishing Project
What You'll Need:
- Local Retailer that sells Annie Sloan Chalk Paint (unfortunately, it can't be purchased online in the US)
- 1 quart of Chalk Paint in the color of your choice
- 1 small tub of Soft Wax
- A few fine sanding cubes
- Several clean rags (that you don't mind ruining)
- Paint Brush
- A few hours outside on a beautiful afternoon. Or, if you're preggo like me, a handy husband that is willing to paint outside and/or while you're out of town once you've provided him with all of the tools necessary.
- New hardware (optional, but fun!)
Anyone else do a similar refinishing project lately? I am so thrilled with the way it came out, that I'm itching to do another before G Baby arrives!