Whew, I am a bit late for this bumpdate because B was battling an epic stomach bug yesterday. So, I spent the day cleaning, praying, shopping for every vitamin, supplement and tummy helper, and then praying a whole lot more.

Thankfully, B started feeling better yesterday evening, and I am still doing fine, so we're praying that things stay this way as we get ready to leave for Atlanta for my sister's wedding weekend.
But, back to more fun topics, like G Baby. He is growing fast and furious, and if a baby's activity level inside of the womb has anything to do with their activity level once they're on the 'outside' then we are really in for it with this little guy. He is active often and every single day. His kicks are getting stronger and I can actually see my skin moving from time to time. I am loving this part of pregnancy and getting to know him more and more.
If you follow me on Instagram, you already know that nursery progress started last weekend. We have all of his furniture here and in the room. Next week I will work on cleaning everything and then starting to move the piles of clothing and gifts that we have already accumulated into their new homes.
We also have our first shower coming up in a month, and I am already so excited and overwhelmed by the outpouring of love that our little family continues to receive as G Baby's due date gets closer and closer.
I don't have any formal '24 week' pics because of all of the mayhem around here over the last week or two, but I did snap this comparison shot when I was just about 23 weeks last week. I can hardly believe the difference a few short months has made. 10 weeks feels like it was yesterday!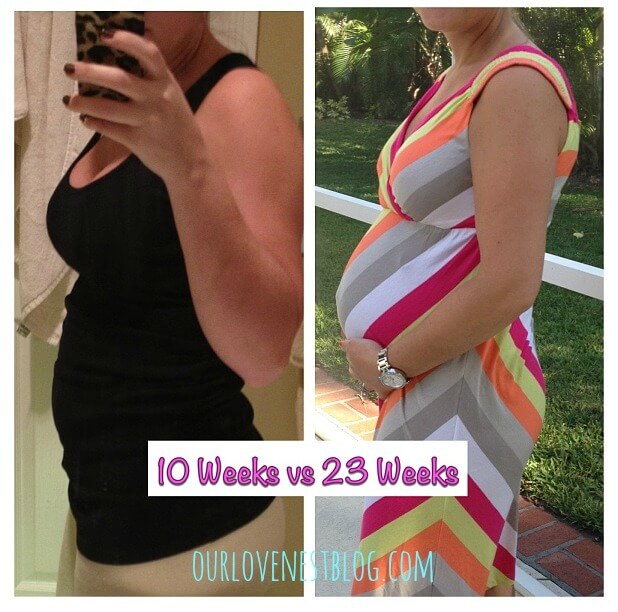 How far along are you? 24 weeks as of 4/2/13
How I'm feeling: Still feeling great! Sleeping better thanks to my body pillow and my energy level is still up. Plus, I can't get over feeling Little G kick each and every day.
Total weight gain: 11 lbs. as of 4/1/13
How big is baby? G is the size of an eggplant this week. Just about 9 inches long and a little over 1.5 lbs! Wasn't he JUST the size of a raspberry?!
Maternity clothes: Yes, please. I am still rocking my pre-pregnancy yoga pants, but my maternity comfies ha

ve

become my go-to about six days per week.
Stretch marks? Nope! Learned that they're genetic and it turns out my Mom never got them, so here's hoping!
Sleep:

Actually getting better sleep most nights. Still starting my days on the early side, but I am only getting up about once per night and feel pretty well rested each morning.
Best moment this week

:

Heard his heartbeat again at our 24 week appointment on Monday, and the doctor said everything looks perfect! I am anxious to get through my glucose test (5/1) and gearing up for our first baby shower in a few short weeks!
Movement: Love it. So much movement and so often. I adore this time with G.
Food cravings: Not really craving anything, but my appetite has definitely increased over the last two weeks or so. I try to eat pretty healthy, but can still put away my fair share of mac n' cheese on the day(s) when I just NEED it for lunch.
Food aversions: Nada
Labor signs: Nothing yet!

Belly button in or out: Bahaha. Wayyyy out.
What I miss: Skinny jeans and fruity cocktails.

What I'm looking forward to: Finishing getting his nursery together over the next few weeks and my sister's wedding this weekend!
Milestone:
Nearing the third trimester. What?! Feeling healthy and strong most days and hoping this continues. Oh, and bringing a crib into our house sort of rocked our world last weekend.