There are so many things to think about when preparing for the arrival of your first baby. Other than turning your house upside down with your new found love of nesting organizing, there is a nursery to design and setup, closets to clean, baby clothes to fold, doctors to choose and childbirth classes to take. And that is just the beginning.
One of the things that has had me the most curious is how we will do settling into our new life, and into important new routines. Of course I don't know what exactly to expect during the process of establishing said routines, but I do imagine there will be breastfeeding, new sleeping arrangements (read: no sleep) and the eventual pattern of sleep training. I can plan as much as I want to, but still not know how all of this will fall into place until the time actually comes and G Baby is giving us a run for our money in the sleep department.
But I thought that doing my research now and reading up on some popularly used sleep training tips and techniques wouldn't be a bad place to start. Especially since I still have time to read, and sleep, right now.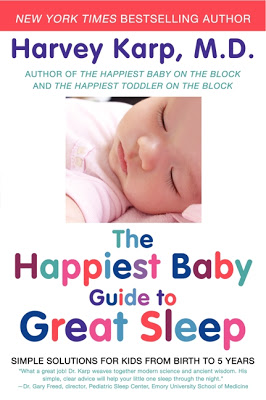 So, when I was offered the chance to read and review Harper Collins' 'The Happiest Baby Guide to Great Sleep,' I thought it might be a great place to begin.
'Backed by compelling science, common sense and decades of experience, Dr. Karp's landmark guide will revolutionize how millions of children drift off to dreamland.'

Dr. Harvey Karp does a great job dispelling some commonly used sleep training myths, and offering up useful tips and advice for any parent that is struggling to create a good sleep pattern for their baby or toddler. These tips include the following ...
How to train brand new

babies

to sleep better: Infants can be taught to sleep at least one extra hour from the first weeks of life! Dr. Karp shows how to safely boost

baby

sleep in just days.

What's the best white noise (and which ones worsen sleep): The right white noise (low pitched and rumbling) is the key to good sleep—even through teething—for all

babies

. Plus, it even gives parents a more restful sleep

Why parents should always wake a sleeping

baby

: For good sleep,

babies

must learn how to self-soothe. The best way to teach

babies

how to fall back to sleep—when they rouse in the middle of the night—is to wake them just as they're being put into bed.

How to enjoy the benefits - and avoid the risks - of swaddling: Swaddling dramatically improves a new

baby

's sleep. Yet, many states are shockingly banning this ancient parenting tool. Smart moms should do it and Dr. Karp will teach them how to do it properly and safely.

The importance of powering down: Staring at bright screens at night (TVs, computers, phones) can wreak a toddler and a parent's sleep.

Easy "no-cry" tips that end infant and toddler bedtime struggles in just days!
While I am certainly no pro at employing these tips, I am working hard to build my knowledge of helpful advice like this while we prepare for Gavin's arrival. I figure I can't go wrong with doing copious research and then taking a bit from each style ad creating one that is personalized for our family.
I plan to write another post touching on this subject once I have had a few months at home with G and have tried out some of the best tips that I have come across.
Have you tried the 'Happiest Baby' sleep training tips? Perhaps renting the DVD and having B watch with me would be a fun, educational idea?!
Please share your thoughts and advice!
"I am participating in a book review campaign with One2One Network. I received this book from Harper Collins for the purposes of reviewing it. I have not received compensation. My participation in the campaign enters me into a drawing for a gift card. All opinions stated are my own."