I have always been an avid water drinker. In fact, it is so bad (or good?) that if I go more than two hours without at least a sip of water, my throat gets irritated. Now that I'm a pregnant Momma, it is even more important that I keep myself hydrated, and drinking lots of water can help flush out infection and sickness, too.
Since I work from home, it is easy for me to hop down to the kitchen for limitless refills throughout my days, but my schedule is always changing, and always busy, so it's nice to have some easy on-the-go options that can go with me wherever I go.
I started working with Crystal of Shop Crystal Faye earlier this month, and the Monogrammed Tumbler was the first item I got to review.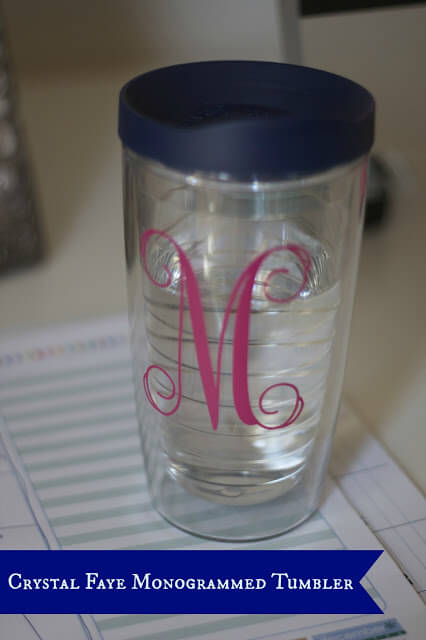 As soon as I received this tumbler in the mail, I immediately washed it and started taking it with me everywhere. It's the perfect travel companion for running errands, jetting off to business meetings and road trips. The lid makes it easy to throw into my purse if I need an extra hand or even if I want to take some water into a movie with me. The monogram adorning the front of the tumbler was an added bonus, and I love the way it personalizes it just for me.
And, who couldn't use one of these cute tumblers to travel with them? Even better is the fact that the design of the tumbler helps to keep your beverage hot or cold just a little longer.
Sound great to you? Well, you're in luck because today I am hosting a giveaway where one lucky reader will be chosen to receive their very own Monogrammed Tumbler from Crystal Faye free! Simply use the Rafflecopter widget below to enter. This giveaway will close on Friday, March 1st, so get your entries in!
And, if you just can't wait, or you've been eyeing up another item in Crystal's shop, don't forget to use code: NEST10 for 10% off any order!